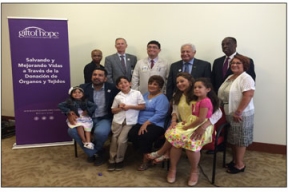 Caption by Ashmar Mandou
Gift of Hope continued its vital message of organ donation when they host a press conference at Northwestern Memorial Hospital to launch The Greatest Gift in the World campaign to help boost awareness about organ and tissue donation in the Latino community. During the press conference, Gift of Hope shared the story of EJ Maldonado, an organ recipient who received a second chance at life due to organ donation and the doctors at Northwestern Memorial Hospital. This month marks the National Minority Donor Awareness Month and Gift of Hope encourages the community to register to become organ and tissue donors.
From left to right second row: Marion Shuck, Gift of Hope Community Affairs Manager; Kevin Cmunt, Gift of Hope President/CEO; Juan Carlos Caicedo, MD, Director of Hispanic Transplant Program and Transplant Surgeon for EJ Maldonado; Juan Garcia, Grandfather of EJ; Jack D. Lynch, Gift of Hope Community Affairs Director; Beatriz Maldonado, Grandmother of EJ. From left to right first row: Citlali Maldonado, Cousin of EJ; Efrain Maldonado, Father of EJ; EJ Maldonado, Liver Transplant Recipient; Adilia Garcia, Grandmother of EJ; Rachel Maldonado, Mother of EJ; Madeleine Maldonado, Twin Sister of EJ.