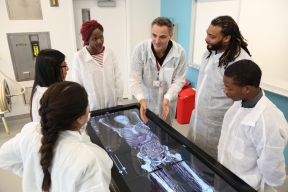 Chicagoans who want a quality, affordable education to prepare for further college or a career should register for the Fall 2016 semester at City Colleges of Chicago. The registration deadline for the 16-week Fall term is Monday, August 22, 2016. City Colleges offers certificate and associate degree programs that prepare students to secure a job in a high-demand field or transfer to a four-year university, as well as free English as a Second Language (ESL) and GED high school equivalency instruction offered at 70 locations across the city. Chicago Star Scholarships are still available to graduates of Chicago Public Schools who meet eligibility requirements. Chicago Star Scholarships provide recipients with free tuition and books as they pursue an associate degree at City Colleges. Chicago Star Scholars are also eligible for scholarships and bachelor's degree transfer opportunities offered by four-year colleges and universities in the Star Scholarship Partnership program. Courses are offered during the day, in the evening, on weekends, and also online. New students can apply by visiting the admissions page. Search for Fall 2016 courses at all seven City Colleges locations here.
The seven City Colleges of Chicago are:
Harold Washington College – 30 E. Lake St.
Harry S Truman College – 1145 W. Wilson Ave.
Kennedy-King College – 6301 S. Halsted St.
Malcolm X College – 1900 W. Jackson Blvd.
Olive-Harvey College – 10001 S. Woodlawn Ave.
Richard J. Daley College – 7500 S. Pulaski Rd.
Wilbur Wright College – 4300 N. Narragansett Ave.
For more information about City Colleges of Chicago, call (773) COLLEGE or visit www.ccc.edu.
PHOTO CAPTION:
City Colleges of Chicago students taking classes in the new Malcolm X College and School of Healthcare Sciences at 1900 W. Jackson Blvd. The registration deadline for Fall 2016 16-week credit programs at all City Colleges locations is August 22. City Colleges offers degree and certificate programs, the tuition-free Star Scholarship, and free GED and ESL classes.