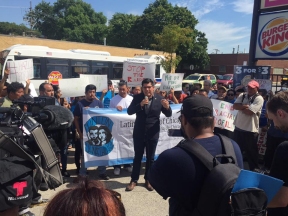 Por Ashmar Mandou
Una enorme manifestación tuvo lugar en una gasolinera Shell Gas en el sector norte, el martes en la tarde, para denunciar violaciones de ICE a los derechos civiles que afectan a los trabajadores laborales. En la esquina de Milwaukee y Belmont, organizadores del Sindicato Latino de Chicago, Comunidades Organizadas Contra la Deportación, #Not1More Campaign, junto con trabajadores diurnos sostuvieron una conferencia de prensa para acusar a agentes de Immigration and Customs Enforcement (ICE) de mostrar perfiles raciales que afectaron recientemente a trabajadores diurnos que esperaban trabajo en la esquina de Milwaukee y Belmont, pidiendo una investigación oficial. 'Los agentes de ICE aparecieron repentinamente. Pensamos que eran empleadores que venían a recogernos para trabajar, pero era ICE pidiendo ver nuestros papeles y revisando nuestras manos", dijo un trabajador, William Rivero. "Solo somos trabajadores – ¿Porqué vienen a violar nuestros derechos básicos?" En la conferencia de prensa los trabajadores compartieron con los medios de comunicación que los agentes pidieron a algunos de los trabajadores en la esquina que mostraran sus manos para revisarlas, sin causa alguna.
"Es hora de que nosotros divorciemos completamente a la inmigración de la ciudad. Nuestra ciudad dirá no a las manifestaciones, no al destrozo de nuestras comunidades", dijo el Concejal Carlos Ramírez-Rosa. Durante el asalto, los agentes de ICE detuvieron a tres personas. "No hay otra forma de llamar el que agentes gubernamentales hagan blanco en hombres latinos, en un grupo de reunión tradicional y que los forcen a someterse a sus investigaciones, mas que perfil racial", explica la Directora del Sindicato Latino, Analía Rodríguez. "Donald Trump debe estar orgulloso de cómo Ricardo Wong dirige su agencia, pero cualquier otro debe considerar esto una vergüenza, una grave violación y un ejemplo del racismo que contienen las regulaciones de inmigración del país".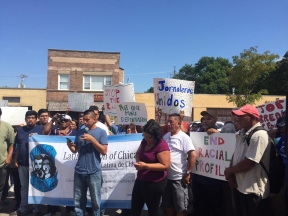 El Sindicato Latino se asoció con Comunidades Organizadas Contra la Deportación y #Not1More Campaign, para dar los pasos necesarios para responder a estas redadas. Los pasos incluyen lo siguiente:
Los grupos están registrando una solicitud oficial a la Oficina de Derechos Civiles y Libertades Civiles del Departamento de Seguridad en el País, para que investiguen sobre las violaciones a los derechos civiles ocurridos en la operación.
Los grupos están registrando una solicitud de libertad de información con el Departamento de Policía de Chicago, para descubrir que, si hubo, papel y aviso por adelantado tuvo la policía en relación a las redadas.
Los grupos están registrando una solicitud de discreción procesal con Immigration and Customs Enforcement para la liberación de los trabajadores allanados y el cierre de sus casos.
"Asaltar una esquina es una calle es como balacear una fábrica", dijo el Organizador Senior del Sindicato Latino, Eric Rodríguez. "El costo humano a las familias separadas por las redadas de ICE es incalculable y el impacto económico devastador".
"Queremos decir a la ciudad de Chicago, que esta es solo otra de las razones por la que necesitamos romper la colaboración con inmigración, sin excepciones", dijo Anibal, miembro de Comunidades Organizadas Contra la Deportación.