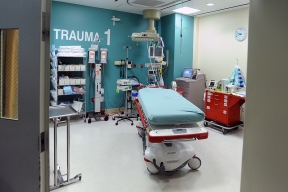 Pioneers, angels, lifelong friends — just a few of the words used by grateful patients and Cook County leaders to describe the 50-year legacy of the Cook County Trauma Unit. A special program was held September 9 at John H. Stroger Jr. Hospital to reflect on the extraordinary contributions of one the nation's most distinguished trauma units. Founded in 1966 at Cook County Hospital, the trauma unit was the first comprehensive trauma unit established in the U.S., providing prevention and pre-hospital services, critical care and surgery, rehabilitation and extensive follow-up care. Today, the Cook County Trauma Unit is one of the busiest in the nation.
"The Cook County Trauma Unit is a national leader in the field, saving lives when time matters most. I am proud Cook County has led the way for the rapid extension of trauma centers around the country and the development of best practices in treating traumatic injury patients," said Cook County Board President Toni Preckwinkle. The Trauma Unit was the brainchild of Dr. Robert Freeark and Dr. Robert Baker, inspired by the specialty hospitals that were built off of motorways in Austria to treat victims of car crashes and utilizing techniques developed in combat zones and mass-casualty experiences. For the first time, a dedicated surgical, medical and nursing team, with specialized training, were brought together in a designated area to always be available to treat critical cases.

By the 1970's, Cook County's Trauma Unit became the model for other hospitals and led to the creation of the local and state EMS systems. Over the last five decades, the Trauma Unit has made important contributions to "resurrection medicine", saving lives that may have previously been lost due to car accidents and violent injuries. "Importantly, the team cares for the whole person, and frankly, the whole family. And while the initial focus is on saving lives, the ongoing challenge is often mending broken lives, families and spirits that have been torn apart by the unpredictable calamity that trauma can bring," said Dr. Jay Shannon, CEO of the Cook County Health and Hospitals System.
Dr. Faran Bokhari, who has been a trauma surgeon with CCHHS for more than two decades and now leads the Trauma Unit, says he has seen significant changes in not only how trauma cases are treated, but also the types of traumatic injuries. During the early years of the Trauma Unit, Cook County Hospital was seeing more than 1,000 trauma patients each year. Today, Stroger Hospital sees nearly six times that amount. "We've seen changes in patterns of firearm injuries over the past years, from the types of weapons used to the age of patients injured. In 2014, we saw more than 740 firearm injuries. Last year, more than 920. And this year, we have already cared for nearly 800 victims of gun violence. An increase of nearly 30 percent," said Dr. Bokhari. Several victims of gun violence spoke at the ceremony, including Kamilah Givens, who was on death's door when she arrived at Stroger Hospital after being shot 10 times in 2011. "This is my safe haven. To this day, I still communicate with my doctors, nurses, social workers and the chaplain. They are all here for me, and I really appreciate that," said Givens. "I am honored and blessed."