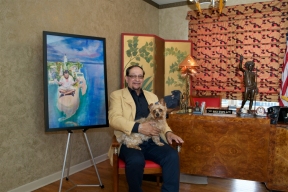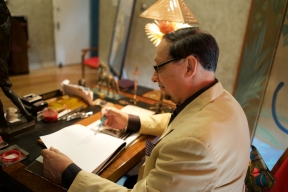 Por: Ashmar Mandou
Hay una plétora de palabras lisonjeras que podrían decirse para describir a Don Rossi Nuccio, nativo de Chicago. Apasionado, fascinante, comprometido, filantrópico o fuerte. Realmente, todas estas palabras describen mejor el carácter del hombre que ha dedicado cerca de 20 años de su vida a brindar oportunidades a jóvenes artistas a través de su organización Latino Art Beat, organización de arte, no lucrativa, que promueve el talento artístico de jóvenes artistas de secundaria, por medio de competencias anuales. "Realmente me siento bendecido de atestiguar tanto talento en Chicago en jóvenes de dieciocho años. Es asombroso que lo que empezó como una exhibición de arte informal, con artistas locales del sector sur, haya evolucionado en algo que ha cambiado completamente la vida de los estudiantes de este país", dijo Nuccio. "La longevidad de esta organización es una prueba de lo que son los programas vitales de arte para los jóvenes y de lo gratificante que puede ser dar a los estudiantes una forma de educación y empleos superiores que de otra manera no habrían tenido".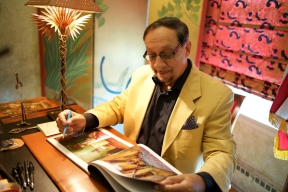 Antes de crear Latino Art Beat, Nuccio trabajó en una industria de entretenimiento, junto con conocidos actores y cantantes, inclusive codeándose con la finada Whitney Houston y con Gloria Estefan. Ha recibido varios premios por sus contribuciones a la música, incluyendo un reconocimiento de alto perfil en Chicago Music Awards. En el 2005, Nuccio desarrolló una afiliación con The Latin Recording Academy, The Latin GRAMMYS's al brindar por primera vez la oportunidd de que un estudiante artista creara el cartel oficial del Latin GRAMMY Awards. En el 2008, Nuccio recibió el prestigioso premio "Compadre Award" de National Hispanic Heritage Awards Foundation por haber ayudado con sus programas enfocados en educación superior, dentro de las comunidades latinas. A través de su carrera, Nuccio ha establecido afiliaciones con Chicago Latino Film Festival, el Miami Short Film Festival y HollyShorts Film Festival en Los Angeles, CA para impulsar el trabajo y las historias de los jóvenes artistas, dentro del medio.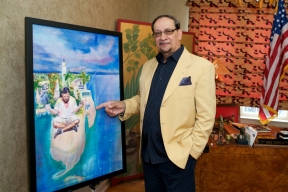 "La gente siempre me pregunta cuanto voy a continuar haciendo esto",dijo Nuccio. "Verdaderamente no lo se. Me encanta lo que hago. Me gusta aprender algo nuevo trabajando con jóvenes de todo el país. Atestiguar su impulso y creatividad siempre es maravilloso. Florecen como artistas. Estoy aprendiendo constantemente solo con trabajar con estos jóvenes y estoy agradecido por ello". La respetuosa actitud de Nuccio es lo que nos hizo iniciar el Mes de la Herencia Hispana con su historia, con la esperanza de que ustedes encuentren inspiración en ella para fortalecer su legado, para el mejoramiento de su comunidad. "El Mes de la Herencia Hispana, para mi, es celebrar lo que han hecho nuestros ancestros en el pasado y aprovechar las lecciones aprendidas para poder crear un mejor futuro para las generaciones futuras.