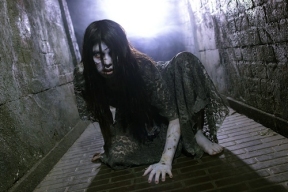 Recopilado por Ashmar Mandou
La Ciudad de Chicago está llena de casas fantasmales en toda la ciudad así que aproveche el fin de semana para visitar una de ellas.
Disturbia Grita en el Parque
La mente creativa tras Disturbia Torment of Fears en Addison, IL combina fuerzas con Gritos de Rosemont's en el Parque, en una experiencia fantasmagórica colaborativa. Los visitantes descienden a un nivel inferior de un garage estacionamiento, donde pasan por 35 cuartos interactivos. Se recomienda una edad mínima de 13 años.
MB Financial Park en Rosemont, 5501 Park Pl, Rosemont; Viernes, 14 de Oct., a Sábado,. 5 de Noviembre
Prisión Encantada en Statesville
Casa encantada con su Ejército de Zombies, 50 minutos al sudoeste de Chicago, pero los que gustan de emociones fuertes deben hacer el viaje. Los visitantes entran en una ficticia Prisión de Statesville, donde atraviesan 23 diferentes celdas llenas de prisioneros amotinándose frente a zombies en la Ciudad de los Muertos. Es una experiencia visceral que no debe perderse. Edad mínima 10 años.
Statesville Haunden Prison, 17250 S. Weber Rd. Crest Hill 60441; Jueves, 13 de Oct al Lunes 21 de Oct.
Casa Encantada del Piso 13º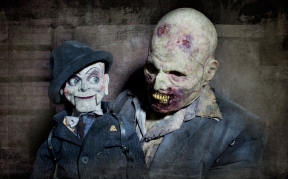 Con más de 30,000 pies cuadrados de espacio, la Casa Encantada en el Piso 13 en Melrose Park ofrece una de las más tenebrosas experiencias del área. Este año está dividida en dos atracciones: Bloodlines: Legado de Oscuridad, un cementerio lleno de vampiros y el Distrito del Callejón sin Salida.: Una pesadilla apocalíptica urbana, infestada de zombies.
13º Floor Haunted House, 1940 George St. Melrose Park; Hasta el sábado, 5 de noviembre.
Casa del Tormento
Los suburbios son más tenebrosos este otoño, con dos temas de atracción en la Casa del Tormento Chicago. Encontrará estudiantes dementes de secundaria y porristas zombies en Nightmare High y una pandilla de payasos asesinos persiguiéndolos por las calles de Morton Grove en The Frenzy. El 4 y 5 de noviembre puede participar en el evento a oscuras, que le permite caminar por ambas atracciones solo con una vara iluminada para ver el camino.
House of Torment Haunted House, 8240 N. Austin Ave., Morton Grove; hasta el 4 de Nov.