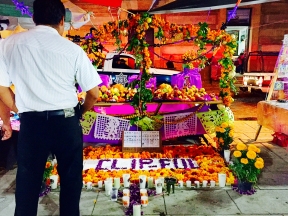 ElevArte Community Studio proudly presents Chicago's longest-running Dia de Muertos celebration on November 2nd at Dvorak Park in the Pilsen neighborhood–Muertos de la Risa. Rooted in Mexican tradition, Dia de Muertos serves as a joyous occasion to celebrate life and honor the memory of loved ones that have passed away. As in previous years, community favorites like face painting, art activities and youth performances will highlight the evening. This also includes the main event—a community procession to observe street-level ofrendas outside local businesses created by community members and artists for this traditional holiday. ElevArte also invites community members to honor the memory of a loved one who has passed by taking the time to nurture the present and the living. Art activities will present an opportunity to do so.
Agenda for Muertos de la Risa, Wednesday, Nov. 2:
3:00-6 pm: Face Painting & Art Activities
5:30 pm: Youth Performances
6-7 pm: Community Procession
7-8 pm: Refreshments
Muertos de la Risa is presented as part of the Chicago Park District's Night Out in the Parks series, supported by Mayor Rahm Emanuel.