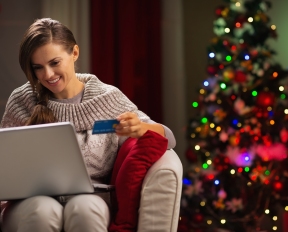 When it comes to paying for holiday purchases, more than half of Illinoisans say they plan to use credit cards this year instead of cash or debit cards. The latest COUNTRY Financial Security Index® surveyed Americans about financial decisions related to holiday shopping. When asked about the method of payment for holiday spending, most say cash is not king. In Illinois, 52 percent of survey respondents said they plan to pull out their credit cards when holiday purchases are rung up at the register. That number is slightly higher than the national average of 46 percent who said they plan to charge their holiday gifts. While the use of debit cards is somewhat significant (20 percent in Illinois, 22 percent nationally), very few said they plan to write a check. The national average of check writers is a tiny one percent. Most Illinois shoppers plan to spend today and pay tomorrow. Sixty percent of shoppers said they are willing to take on some level of debt for holiday purchases. Joe Buhrmann, manager of financial security at COUNTRY Financial®, says people need to develop a holiday spending plan and make every effort to stick to it. "Veering away from your shopping list can tack on those extra expenses," says Buhrmann. "Adding impulse purchases during shopping trips on a credit card is definitely a way to end up with some post-holiday regrets when the bill comes due." To avoid a "credit card hangover" after the holidays, Buhrmann offers some simple tips:
Create a realistic spending plan – and stick to it. Remember that the holidays are more than just gifts. Costs for decorations, meals, baking and postage to mail packages should all be factored in. Plus, there are gas and airfare costs to visit family and friends. Keep those in mind throughout the year as you save up.
Only use credit cards for online purchases. If you have to use a credit card, save it for online purchases. Credit cards do offer some extra fraud protection. Just be careful not to overspend.
Look for "found money." See if you have reward points from hotel stays or from your credit or debit cards. These can often be cashed in for merchandise purchases or gift cards to help with holiday spending.