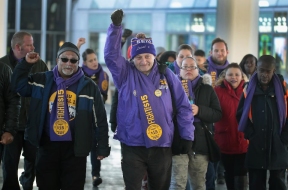 By: Ashmar Mandou
O'Hare workers have been developing their case for $15 and union rights for the past year and on Tuesday nearly 500 workers and supporters descended onto the airport to demand fair labor practice. Baggage handlers, cabin cleaners, janitors, and wheelchair attendants who work at O'Hare International Airport held a strike to protest against unfair labor practices by their employer on November 29th between Terminal 2 and 3. The workers forged together for $15 and union rights and faced retaliation from their employers as a result. More than 1,500 supporters from SEIU Local 1 and community allies turned out to support the striking workers at O'Hare. "We are sick of being retaliated against and treated like dirt for coming together for $15 and union rights at O'Hare Airport," said Scrub, Inc. Cabin Cleaner Kisha Rivera. "I'm standing up today for my future and the future of my children.
"Hundreds of courageous O'Hare baggage handlers, cabin cleaners, janitors and wheelchair attendants walked off the job today to protest retaliation from their employers for coming together for $15 and union rights," said SEIU Local 1 President Tom Balanoff. "Airports across the country – most recently in Minneapolis – have raised wages standards for their workers. It's time for Chicago to do the same."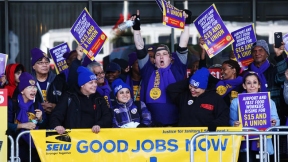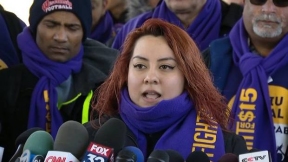 The airport workers were joined by Chair of the Chicago City Council Latino Caucus Alderman George Cardenas (12), Chair of the Chicago City Council Progressive Caucus Alderman Scott Waguespack (32), Alderman Carlos Ramirez-Rosa (35), Alderman Anthony Napolitano (41), Alderman Ameya Pawar (47), Alderman Joe Moreno, (1), Alderman Ricardo Muñoz (22), Alderman Roberto Maldonado (26), Alderman Ariel Reboyras (30), Alderman Gilbert Villegas (36), Alderman Emma Mitts (37), Alderman Nick Sposato (38), and Cook County Board of Review Commissioner Michael Cabonargi (District 2). The aldermen represent airport workers in their wards and are concerned that inadequate safety and health standards, along with low wages, high turnover, insufficient or lack of training at our airports not only put workers in danger but also hurt passengers by impacting safety and quality of service. Tuesday's strike by the airport workers is part of a growing movement of underpaid airport workers coming together at major origin and destination airports around the country to demand they're no longer left behind struggling to make ends meet, despite helping to generate $8 billion in profits for the airline industry.