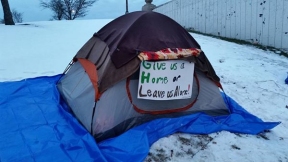 Por: Ashmar Mandou
Después de meses de protesta comunitaria, presión y de avergonzar a los políticos, se anunció que el albergue North Side Housing and Supportive Services Shelter de la Ave., Lawrence no cerrará sus puertas, como había sido programado para el fin de semana de Navidad. Se llevó a cabo una manifestación para celebrar la victoria, en Lake Shore Drive Wilson Ave., pero también se habló sobre lo mucho que debe hacerse para ayudar a la comunidad de desamparados.
"Estamos aquí para celebrar una victoria, la victoria de mantener abierto el albergue de Uptown, en el 941 W. Lawrence Ave. Lo más importante sobre esta victoria – no fue una victoria de los políticos, no fue una victoria de los ricos – fue una victoria de la comunidad de Uptown que ha estado presionando al Concejal James Cappleman, que ha estado presionando a nuestro alcalde y a los funcionarios estatales, para pedirles mantener abierto este albergue tan urgentemente necesitado", dijo Andy Thayer, de Uptown Tent City Organizers and Gay Liberation Network.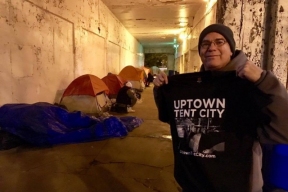 A Uptown Tent City Organizers se unieron North Side Action for Justice, Gay Liberation Network y otras organizaciones comunitarias locales que han luchado por mantener abierto el albergue y que se oponen al acoso de la policía y los "servicios sociales" a los desamparados que viven bajo los viaductos de Lake Shore Drive. "Como lo habrán notado las personas asociadas con el albergue, el Concejal Cappleman no movió un dedo para salvar el albergue. Fue la presión comunitaria, la gente que está tras de mi, quienes pidieron, inexorablemente, que el albergue siguiera abierto. Por eso es que el albergue de Uptown va a seguir abierto en el 941 W. Lawrence. Así que, si vamos a ganar futuras victorias debemos saber cual es la fuente de nuestras victorias actuales".
Como pueden ver tras de mi hoy, todos los recursos de la ciudad que se gastan en los desamparados es para acosarlos y es sacar a Calles y Sanidad de aquí para hacer su seudo limpieza, que no sirve para nada, sin propósito alguno. Esos recursos podrían gastarse en albergar a esta gente", dijo Trish Snowden, residente largo tiempo de Uptown. "Esta ha sido una batalla contínua para nosotros y es una victoria de nosotros. Tenemos un concejal que es un trabajador social clínico licenciado y alega que la gente no quiere ir a los albergues y después dice, "No hay lugar y no queremos esos albergues en Uptown y vamos a cerrarlos. El albergue en el 941 W. Lawrence iba a cerrarse hasta que protestamos y seguimos luchando y luchando y luchando".