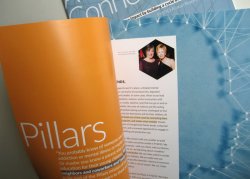 At a critical time when substance misuse is becoming a national crisis, Pillars is expanding its Addictions Services in the Chicago area. Pillars, the largest nonprofit provider of mental health and social services in the western and southwestern suburbs, has provided Addictions Services since 1975. Clients from any town who could get to Pillars' Hickory Hills or La Grange Park locations could receive treatment in the past. As of January, the agency is now offering services at its Berwyn location, The Fillmore Center. The expansion means people in the Cicero-Berwyn area will have easier access to care. "Our goal is to get people sober and improve their quality of life—without removing them from the community or their homes," says Helen Stewart, LCSW, chief clinical officer at Pillars. "By offering services in more areas, we are making it easier for individuals to find help. We're right here alongside the BNSF tracks, a short walk or ride for those who live in proximity to Berwyn." Pillars Addictions Services include:

Early intervention and outpatient treatment including individual and group therapy
DUI evaluations and DUI risk education
Treatment for complex cases such as addiction and pregnancy or domestic violence
Referrals to higher level of care such as inpatient rehab, if needed
Pillars offers Addictions Services in both English and Spanish. Clients do not need private insurance, though some private insurance is accepted; fees are assessed on a sliding fee scale, based on clients' income. Learn more at www.pillarscommunity.org or call 708.PILLARS (708.745.5277).