por: Ashmar Mandou
La agencia de Servicio Social Holsten Human Capital Development (HHCD) anunció e lnombramiento de Israel Vargas como Director Ejecutivo. "Después de una larga búsqueda, la Junta no lucrativa de Holsten Human Capital Development se enorgullece en dar la bienvenida a Israel Vargas. Creemos que su rica experiencia y los estimados colegas con quienes sostiene sólidas relaciones, lo hacen ideal para ocupar nuestra misión y presencia en las comunidades que atendemos", declaró la Fundadora y Directora de la Junta de HHCD, Jackie Taylor Holsten. Vargas adquirió, más de una década de experiencia organizando enlaces comunitarios, trabajando con la Universidad Roosevelt, San José Obrero Mission, donde estabilizó la organización aumentando los fondos y participó en múltiples marchas de Cese el Fuego. Vargas recibió un Premio de Excelencia de la Tesorera de la Oficina del Condado de Cook, Maria Pappas y recibió el reconocimiento del Concilio de Asesoría de la Comisión de Relaciones Humanas de Chicago sobre Inmigrantes y Refugiados. Vargas habló recientemente al Lawndale Bilingual Newspaper sobre su nuevo puesto en HHCD.
Lawndale Bilingual Neswspaper: ¿Qué significa para ti estar al frente de Holsten Human Capital Development (HHCD) como director ejecutivo?
Israel Vargas: Para mi, estar al frente de Holsten Human Capital Development es un honor y una exitante experiencia al mismo tiempo. Tengo que vivir mi misión personal de ayudar a otros mientras presto mi conocimiento en el sector no lucrativo y aprovecho mi red como organización que provee servicios de apoyo a los residentes CHA.
En tu tiempo como director de Participación Comunitaria en Roosevelt University, ¿Qué lecciones y experiencias llevarás a tu nuevo puesto?
Como ex Director de Participación Comunitaria en Roosevelt University, pude experimentar el diverso intercambio cultural dentro de la universidad y la concientización de justicia social que los estudiantes expresan y trabajar con grupos comunitarios de fuera, que siempre utilizan estrategias para ampliar servicios a nuestras poblaciones. Trabajar en Rosevelt University reafirmó mi crencia de que la clave del éxito es la educación apropiada; estimular la educación es un valor único para mi e impacta todo lo que hago.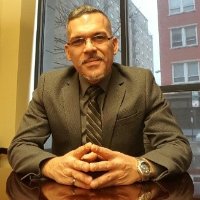 Como Director Ejerucito de HHCD ¿Qué implicaciones tendrá?
Ser Director Ejecutivo de HHCD implica tres diferentes categorías:
Me brinda una visión estratégica para ampliar nuestro trabajo con datos basados en resultados
Aumenta afiliaciones con comunidades, agencias, instituciones filantróficas y cuerpos gubernamentales que crearán un sistema integral para ayudar a los más vulnerables.
Estaré al frente de innovadores programas que amplían la calidad de vida de nuestros residentes
¿Donde espera propulsar a HHCD en los próximos cinco años?
Espero propulsar a HHCD asegurándome que hay programas de vivienda disponibles para personas de ingreso mixto provisto por Holsten Real EState Development para garantizar la integración y eliminar el aislamiento de nuestra población más vulnerable, inculcando Comunidades Sin Barreras.
Has recibido multiples trofeos por tu activismo, compartido tus puntos de vista a través de tu libro "Su GPS Personal – Como Navegar los Retos y Bloqueos de la Vida" [Your Personal GPS-How to Navigate Life Challenges and Roadblocks] y participado en marcas de Cese al Fuego. ¿Porqué es particularmente vital para ti trabajar con las comunidades de Chicago?
Para mi es importante trabajar con las comunidades de Chicago porque toma un pueblo criar a un niño. Como miembro de esta villa, soy responsable de ser la voz que recuerda a la gente que en tanto trabajen y nunca dejen de aprender, todos pueden llegar a ser algo. Yo se la importancia de la tutoría, la comunicación y la guía.
¿Que mensaje tienes para las familias que buscan servicios de HHCD?
Mi mensaje para las familias que buscan servicios de HHCD es que agradezcan la oportunidad de servir y compartir su buena experiencia con otros en Holsten Human Capital Development porque juntos podemos construir comunidades más fuertes.