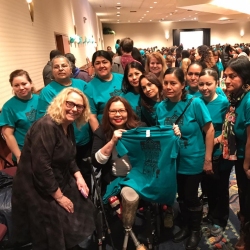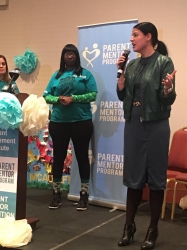 Por Ashmar Mandou
Más de 700 padres tutores se reunieron en Apostolic Church of God el viernes, 17 de marzo, en la Convención Estatal de Padres Tutores del 2017, evento anual donde maestros, tutores, padres y activistas se reúnen para discutir una educación pública de calidad. "Apoyo fuertemente la educación pública porque yo soy producto de la educación pública", dijo la senadora Tammy Duckworth, quien asistió a la convención y se reunió con los padres. "Es crucial que todo niño tenga la atención y recursos que necesita para triunfar en la escuela, no importa de donde venga y alabo a quienes participan en el Progrma de Padres Mentores por su trabajo para comprometer a los estudiantes con nuevas y poderosas maneras". Los padres mentores participaron en talleres en conversaciones cruzadas con la ciudad y el estado sobre como organizarse para tener una educación pública de calidad, crear santuarios en nuestras escuelas y establecer solidaridad a través de líneas raciales y étnicas, a través de estatutos de inmigración y ciudadanía y a través de distritos urbanos y suburbanos.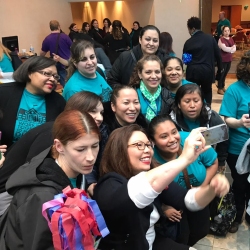 Los padres tutores ayudan diariamente a los niños en el salón de clase en 72 escuelas de bajos ingresos de Illinois, brindando apoyo a más de 600 maestros y a más de 15,000 estudiantes de la primera infancia. Los padres tutores, principalmente madres latinas y de la raza negra, ayudan a llenar la brecha de equidad persistente en las escuelas de sus hijos, dando tutoría a los estudiantes en los salones de clase 2 horas/día. De esta experiencia inmersiva en el salón de clase – apoyada por entrenamiento semanal en prácticas instructivas y organización comunitaria – El Programa Padres Tutores cultiva un fuerte cohorte de líderes en cada escuela afiliada. A pesar del éxito demostrado por el programa, los fondos para el próximo año están en peligro. Aunque ISBE recomienda un aumento de $2M para el AF18, la recomendación de fondos fue "$0" en el presupuesto de educación del Gobernador. Pero los padres tutores y sus simpatizantes en la legislatura siguen determinados a sostener y hacer crecer el programa, sin importar que.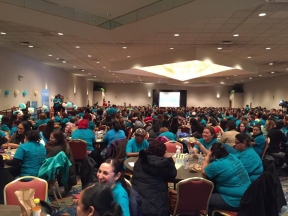 "Estoy comprometida a luchar para que cada escuela pueda tener un Programa de Padres Tutores", dice Gabriela Barajas, coordinadora de padres de Logan Square Neighborhood Association. "Ahora mismo las familias, especialmente las familias inmigrantes, tienen miedo. Los padres algunas veces me dicen que tienen miedo de salir de su casa. Por eso el Programa de Padres Tutores es importante ahora más que nunca. Somos los líderes que necesitamos en este momento para construir una comunidad unida, más fuerte, empezando con nuestras escuelas". Originalmente desarrollado por Logan Square Neihborhood Association (LSNA) en 1995, este modelo de compromiso de padres, reconocido a nivel nacional, ha crecido, de una sola escuela a 72 escuelas que trabajan con 14 organizaciones comunitarias en Illinois en el 2017. Una réplica del programa ha sido guiada por Parent Engagement Institute (PEI) en LSNA y Southwest Organizing Project (SWOP). "Este programa ha sido una bendición en mi vida", dijo Nancy Payan, de Hispanic American Community and Education Services en Zion, IL. "Ahora me puedo comunicar mejor, puedo ayudar a mis hijos de la forma que quería y encontré mi pasión en la fuerza que necesito para estar más involucrada en mi comunidad".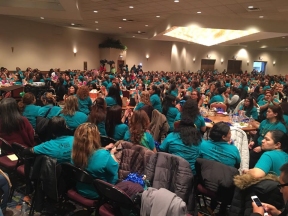 El grupo de padres mentores es una comunidad diversa de gente de todas las procedencias. Venimos de 25 países y hablamos 20 idiomas y practicamos muchas diferentes religiones. Llevamos la riqueza de la diversidad a nuestras escuelas", dijo Yasmin Ahmed de Niles Township ELL Parent Center en Skokie. "Nuestros estudiantes tienen ahora adultos interesados que son como ellos, además de adultos interesados en la escuela, que lucen diferentes a ellos".