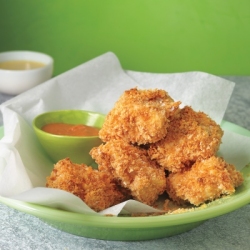 According to the National Institutes of Health, on any given day one-third of children and 41 percent of teens eat from a fast-food restaurant. They also report that the restaurant meals often served to kids contain too many calories. The typical "kid food" being offered tends to usually include chicken nuggets, fries, macaroni and cheese, burgers, and pizza. The problem is that these meals often provide empty calories and don't provide enough nutrition. They also keep the kids wanting the same types of foods at home, with parents often providing them. One expert, Doctor Yum, says it's time to ditch the "kid food" and start giving kids better options. "Most food is kid-friendly. Kids just need to learn how to eat it," says Dr. Nimali Fernando, a Fredericksburg, Virginia-based pediatrician who founded The Doctor Yum Project. Here are reasons to ditch the pizza and pouches and get your kids back to real food:
Kids can learn to eat real food. Most of us parents overestimate the amount of food children need. Therefore when a toddler takes two bites of their entree, parents may feel defeated instead of realizing they may have eaten enough. Parents then may be more likely to reach for those kid-friendly, addictive snacks (like crackers and gummy snacks) to fill their child's belly. It should be no surprise that grazing-style eating, where hunger does not fully develop, leads to a poor appetite at mealtime. Parents should continue to provide opportunities to practice eating healthy foods, and have realistic expectations for what their child should eat. With enough practice kids will get used to a healthy array of fruits, vegetables and whole grains. Check with your pediatrician to see if your child is meeting expectations for growth to ensure his food intake is on track.

Restaurant kids meals are a waste of money. When eating out, say no to kid's meals, which are usually variations on the same "kid-friendly" foods like pizza, chicken nuggets, and sweet drinks. Most of these menus have little to no vegetables or fruit. They may be belly fillers and provide calories but little added nutritional value for your dollar. Instead, order a healthy similarly priced appetizer and/or share your entree with your little one (restaurant meals are so oversized that chances are good that the serving is too big for you anyway). Alternatively, order a few entrees "family style" and ask the server to bring extra plates for whole family to sample. This encourages kids to be adventurous and get used to trying new foods.
Kid-friendly foods are misleading. Recent studies of toddler foods show that many actually have more sugar and salt than what is recommended by experts. Food companies know that parents worry about nutrition, and know the buzzwords to attract those worried parents. It's easy to make food choices based on the promise of "more protein" or "high in calcium." But reading the nutrition label (on the back of the box, not the front) will give you the big picture on whether a food is right for your child. Is there an abundance of additives and preservatives? Are the ingredients recognizable and safe? How much sugar is added? Think about the whole foods that might be used to get the same benefit (like a handful of nuts for protein instead of a protein bar).
According to the Centers for Disease Control and Prevention, healthy eating habits can help children maintain a healthy weight, as well as reduce their risks of such conditions as heart disease, cancer, diabetes, iron deficiency, dental cavities, osteoporosis, and high blood pressure.
The Doctor Yum Project is a nonprofit organization that is dedicated to transforming the lives of families and communities by providing an understanding of the connection between food and overall health, as well as empowering them with the tools to live a healthy life. To learn more, visit the site at: www.doctoryum.org.