Por: Ashmar Mandou
El lunes por la mañana, miembros de Chicago Community & Workers Rights, Centro de Trabajadores Unidos, Domestic Worker and Day Labor Center of Chicago, Chicago Workers Collaborative, Raise the Floor Alliance, Enalce Chicago y muchos otros, se reunieron en una conferencia de prensa sostenida en la Universidad Popular, para exhortar a los trabajadores a que se unan el 1º de mayo y participen en un paro laboral para pedir condiciones de trabajo seguras, salarios dignos, dignidad y respeto en el lugar de trabajo y respeto al derecho a organizarse. La llamada a la acción nacional para el 1º de mayo incluye: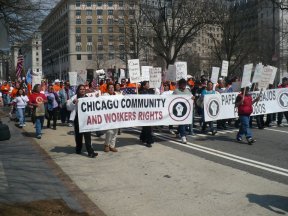 Detener la criminalización, la encarcelación en masa y la deportación de negros, latinos, emigrantes, árabes, musulmanes y comunidades de color;
Defender el derecho de los trabajadores a organizarse, pertenecer a un sindicato y ganar un salario digno;
Defender los derechos de las mujeres, las personas discapacitadas, los transgéneros, los LGBTQ y las no conformes con su género;
Actuar sobre el cambio del clima, crear empleos y oportunidades económicas para los migrantes, los pobres y las comunidades de color desproporcionadamente amenazadas por la contaminación y el cambio del clima;
Defender y patrocinar en su totalidad los servicios públicos, incluyendo la educación pública, el transporte y el cuidado de salud.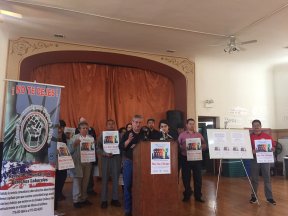 Workers Center está entregando una carta a los trabajadores sin representación sindical que pueden presentar a su empleador para notificarle su derecho legal de participar en una acción colectiva el Día Internacional del Trabajador. "Los trabajadores tienen el derecho a hacer una acción colectiva para pedir mejores condiciones de trabajo y protegerse, ellos y sus familias, contra los ataques que estamos viendo en la actual administración", dijo Rosi Carrasco, de Chicago Community and Workers Rights. "Se necesita que por lo menos dos trabajadores firmen la carta, pero mientras más trabajadores la firmen, mayor protección tendrán", dijo Martin Unzueta, director ejecutivo de Chicago Community & Workers Rights. "El Día de Mayo está arraigado a la lucha por los derechos de los trabajadores, su dignidad y respeto. Esto incluye a todos los trabajadores, especialmente a los trabajadores inmigrantes en este país, que están más expuestos a hacer trabajos peligrosos con bajos salarios y sin una representación de sindicato. El Día de Mayo tomaremos las calles y pediremos justicia para los trabajadores y nuestras familias".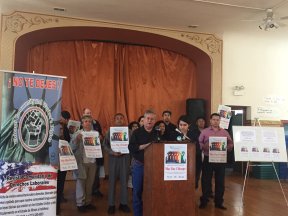 Grupos comunitarios y de trabajo de todo Chicago y el Condado de Cook se reunirán en solidaridad para proteger a las comunidades que se encuentran bajo ataque. Las marchas y manifestaciones en todo Chicago están dirigidas a la creencia de Donald's Trump de que la seguridad solo puede obtenerse aumentando la criminalización y con policía más estricta en las comunidades y arrebatar los derechos que estas comunidades han obtenido al correr de los años. El 1º de mayo, los grupos se reunirán a las 11 a.m. en Ogden & Roosevelt para marchar hacia Union Park para una manifestación a la 1 p.m. antes de marchar al centro de la ciudad en una manifestación a la hora pico a las 4 p.m.