Eighteenth Street Development Corporation (ESDC) presents its eighth annual Mole de Mayo Festival, the only outdoor mole cook‐off event celebrating Latino culture and Mexican cuisine. The mole competition is an annual tradition in which 13 restaurants this year, compete for the coveted title and prestigious clay casserole (cazuela de mole), featuring the winner's name. On Saturday, three celebrity chefs will judge and select the winner the Best Mole. This year's judges is the owner of Gourmet MX, Gabriela Ruiz from Tabasco, Mexico; television personality and restaurateur Chef James Tahhan from Miami; and Chicago's own and former Top Chef finalist, Chef Carlos Gaytan of Mexique Restaurant. To participate in the People's Choice award, festival attendees cast their vote daily after trying a variety regional or specialty mole dishes from some of Pilsen's popular eateries. The winner will be announced on Sunday. 
WHEN:
Friday, May 26 from 5 p.m. – 10 p.m. 
5 p.m. Karen Bloom, Luis Zamora – Salsa and Súbele –  Latin Fusion band
6 p.m. Tierra Roja – Son Cubano, Son Jarocho & Boleros of Latin America
7 p.m. You are Here – Latin Indie Rock
8 p.m. Mariachi Perla de Mexico
9 p.m. YANGA – Afro-Colombian, California 
Saturday, May 27 from Noon to 10 p.m.
3 p.m. Best Mole is announced at the La Luna (West Stage)
8:30 p.m. Headliner performs – El Sol (East Stage) – Celso Piña y Su Ronda Bogotá, a notable Mexican singer, composer, and accordionist. Also known as the El Rebelde del Acordeón (the Accordion Rebel). He will also be performing at Thalia Hall in Pilsen on Sunday, May 28. For tickets, visit www.thaliahallchicago.com. For bio information, visit https://www.facebook.com/celso.pina/
Sunday, May 28 from Noon to 9 p.m. 
5 p.m People's Choice is announced at El Sol (East Stage) 
9 p.m. Official After Party – Celso Piña y Su Ronda Bogotá with special guests, IFE and Dos Santos at Thalia Hall…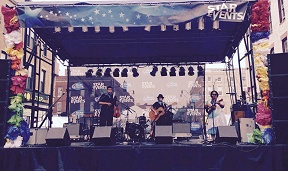 COST:  Suggested donation is $5 for individuals and $10 for families. For more information, visit www.moledemayo.org.
WHERE: 18th St.(Blue Island Ave. to Ashland Ave.)