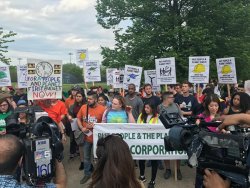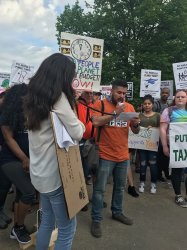 By: Ashmar Mandou
Vocal marchers took over the school grounds of Curie High School Monday evening in an effort to protest the abandonment felt by many in regards to education equality, universal healthcare, transitioning to green energy, and gun violence to name a few. "Today, we are showing the governor and all of our elected officials that we need corporations and the rich to pay their fair share so that we can finally get violence prevention and education funding our community needs," said Board President of the Brighton Park Neighborhood Council (BPNC) Anita Caballero. According to the BPNC, the Brighton Park community has experienced a jump in violence including a mass shooting with ten victims nearly a week ago. Community leaders complain that violence in the community was at a 20-year low six years ago before state budget cuts eliminated all violence prevention programs.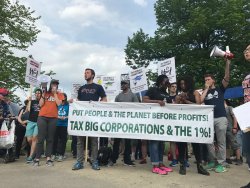 Brighton Park was the first stop on the March to Springfield. Marchers will stop in suburban and rural communities along routes 171 and 66 to listen to people and generate support for a budget that places people and planet ahead of the needs of corporations. The March to Springfield is organized by Fair Economy Illinois and co-sponsored by the Grassroots Collaborative and the Illinois Coalition for Immigrant and Refugee Rights. "When I was young, rich people and corporations paid their fair share of taxes, and government used that money to invest in people," said 90-year old Alfred Klinger. "I'm a World War II veteran, and the GI Bill paid for me to go to medical school, allowing me to serve my community as a physician for 45 years. Government should make these kinds of big investments in every generation." Illinois, the nation's fifth largest state, has been without a budget for two years.
"Springfield has abandoned us, and we deserve better," said Samantha Nichols, a pastor- in-training who plans to march. "Our People and Planet First Budget proposal puts hundreds of thousands of people back to work doing the things that will improve our lives and strengthen our communities." The People and Planet First Budget raises $23 billion dollars by closing corporate tax loopholes ($2.5 billion), passing a financial transaction tax on LaSalle Street trades ($12 billion) and enacting a graduated income tax ($9 billion). Participants will also push for legislation to generate $1.7 billion annually in new revenue by closing the carried interest loophole, raising the state minimum wage to $15/hr to stimulate economic growth, and passing the Safe Zones/Trust Act to protect the Illinois immigrant community from an overreaching xenophobic Trump administration. Learn more at www.marchtospringfield.org. Follow the march using #MarchToSpringfield and by visiting www.facebook.com/marchtospringfield and www.twitter.com/march2spfld.