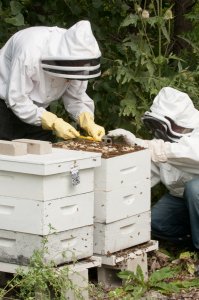 In a boost for the long-time North Lawndale Company, Sweet Beginnings will receive one of six social impact loans being made through Benefit Chicago. A collaboration of The Chicago Community Trust, the John D. and Catherine T. MacArthur Foundation, and Calvert Foundation, Benefit Chicago was created to expand the pool of loans and investments available to mission-directed for- and nonprofit entities, which, due to the communities or populations they serve, often find it difficult to access capital from commercial sources. Known for their innovative company which provides transitional jobs, predominantly for the formerly incarcerated in the manufacturing of honey-based products, Sweet Beginnings applied for and will receive a $500,000 loan from the Fund – financing that their CEO Brenda Palms Barber says is critical to their mission. "The loans announced confirm recent research and our own experience," said Julia Stasch, President of the MacArthur Foundation. "Our region benefits from the great diversity of organizations that generate jobs and provide essential services and from the broad range of individual and institutional investors eager to help facilitate their growth and ensure their success." Benefit Chicago accepts investments and loan applications on an on-going basis. For more information, visit BenefitChi.org. Other borrowers include:
Sweet Beginnings, a wholly owned for-profit subsidiary of the North Lawndale Employment Network, uses the production of beelove™ – a line of honey-based products – to provide job training to community residents who face barriers to employment. Sweet Beginnings $500,000 loan will be used to expand production and sales, which will increase the number of people hired and their length of employment.
AutonomyWorks is a for-profit social enterprise that provides meaningful employment for adults with autism and will use a $600,000 loan to expand marketing and training activities to increase the number of people hired.
CNI is a Community Development Corporation (CDC) and certified Community Development Financial Institution (CDFI) that engages in comprehensive revitalization work in Chicago's economically challenged neighborhoods. CNI will use a $2 million loan in part to facilitate the completion of the 111th Street Retail Gateway in Pullman.
Garfield Produce Company is a hydroponic vegetable farm that creates sustainable local employment and generates wealth in disinvested neighborhoods through the production of fresh produce year-round. Garfield Produce will use a $500,000 loan to expand production capacity and hire additional employees.
IFF is a mission-driven lender, real estate consultant, and developer that will use a $5 million loan to finance a variety of projects that support youth and families on Chicago's west and south side.
LISC Chicago is a leading national community development intermediary that invests in community-based organizations throughout Chicago and will use the $3.5 million loan to support the Southwest Corridor Collaborative (SWCC), a new community partnership focused on revitalizing the 63rd Street corridor.