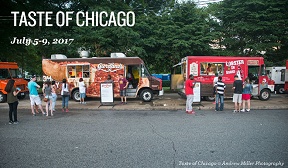 Mayor Rahm Emanuel and the Chicago Department of Cultural Affairs and Special Events (DCASE) announced the lineup of 67 restaurants that will participate at the 37th Annual Taste of Chicago – the world's largest free food festival – this July 5–9 in Grant Park. Showcasing Chicago's diverse culinary scene, this year's list of five-day vendors, pop-up restaurants and food trucks will offer Taste-goers an endless variety of dining options to suit every palate. Taste of Chicago is excited to welcome 17 newcomers to the event in 2017 – including four new five-day restaurants, six new food trucks and seven new pop-up participants who will sell for one or two days. The new food vendors are: American Glory, Aztec Dave's Food Truck, Ben's Bar Be Cue, Bop Bar Truck, Brightwok Kitchen, Broken English, Cheesie's Pub and Grub, Doom Street Eats, El Patron, Hakka Bakka Indian Kati Rolls, Just Salad, Lawrence's Fish & Shrimp, The Little Beet Table, Seoul Taco, The Cajun Connoisseur, Ukai Japanese Restaurant and Warm Belly Bakery. The 37th Annual Taste of Chicago is July 5–9 in Grant Park with hours 11 a.m.–9 p.m., Wednesday–Friday, and 10 a.m.–9 p.m., Saturday and Sunday. For more information on the free admission festival or for the complete list of restaurants, visit tasteofchicago.us. To plan your trip to Chicago, visit choosechicago.com. Join the conversation on Facebook at Taste of Chicago and follow us on Twitter, @TasteofChi (#TasteofChicago) and Instagram, @ChicagoDCASE (#TasteofChicago). Some of the restaurants this year include:
FIVE-DAY RESTAURANTS (*NEW for 2017)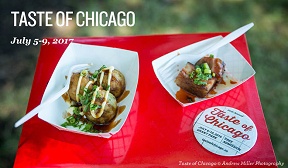 Beat Kitchen
2100 W. Belmont Ave.
*Ben's Bar Be Cue
5931 W. North Ave.
Billy Goat Tavern & Grill
1535 W. Madison St.
BJ's Market & Bakery
8734 S. Stony Island Ave.
Caffe Gelato
2034 W. Division St.
Connie's Pizza
2373 S. Archer Ave.
Dia De Los Tamales
939 W. 18th St.
Doom Street Eats (now five days)
Located at Markets Throughout Chicago
Farmer's Fridge
108 N. State St.
Franco's Ristorante
300 W. 31st St.
Frannie's Café Inc
623 S. Wabash Ave.
Gold Coast Dogs
225 S. Canal St.
Iyanze
4623 N. Broadway
Kasia's Deli
2101 W. Chicago Ave.
La Bomba Restaurant
3221 W. Armitage Ave.
La Mexicana
4171 S. Archer Ave.
Lou Malnati's Pizzeria
805 S. State St.