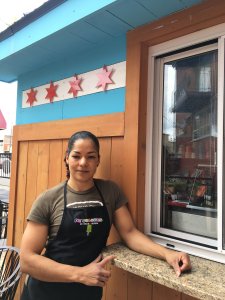 By: Anna Merino
According to the Institute of Women's Policy Research (IWPR), only about 29 percent of America's business owners are women, and that's actually an increase from 20 years ago when it was at 26 percent. What about Hispanic women business owners? The National Women's Business Council reports that one in 10 of all women-owned businesses in the United States are owned by Hispanic women. The states with leading Latina-owned businesses are California, Florida and Texas, and while Illinois doesn't rank among the top three we have plenty in our backyard just take a look at De Colores ice cream and coffee shop.
De Colores (3838 W. 49th St.) first opened its doors in the fall of 2009 just as the country was entering what would be the longest and most difficult economic recession since the Great Depression. A transplant from Jalisco, Mexico, the shop's owner Maria Dolores (along with her husband) wasn't entirely predicting the economic downturn, but she saw a business opportunity in her neighborhood of Archer Heights. "We were the only ice cream around this area, there may have been one a few blocks down," explained Dolores. "I always had the desire to open one up [shop] in the mall to sell yogurt, juices, shakes and sandwiches…healthier options with more fruit and vegetables." So when they saw the location, then an office space, up for grabs, she immediately jumped at the opportunity to make her dream into a reality. Anyone who steps foot into her shop will notice the vivid decor as implied by the spot's name (translates to "of colors" or "colored"). That's not the only thing that brings a sense of freshness. Dolores uses natural ingredient in most, if not all, of what she sells. For example, to sweeten the milk based palettes (popsicles) and other yogurt based products, they'll use raw cane sugar versus using high fructose corn syrup. If you purchase una paleta de limon, you can bet that it's all natural.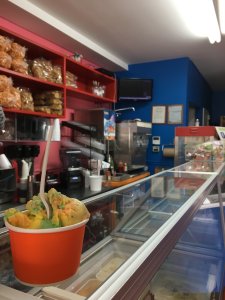 For Dolores, it's about providing healthier options because while she admits she probably should be thinking more like a business woman, at the end of the day, she thinks first as a mother and a Hispanic community member. Sugar stimulates the brain just as an opioid would and can lead to addictive consumption behaviors. "I can't sell something I don't believe in," said Dolores. "I've taught my daughters to eat plain yogurt and fresh fruit. Little by little I'm teaching them to eat healthier." Students from Curie Metropolitan High School are frequent visitors, and she mentioned that a few of them have told her when they eat other types of yogurt they notice their body reacts differently than when eating hers, "their stomach doesn't hurt." Dolores went onto say, "many people don't realize that it may be worth spending a little more now than having to pay more later" in reference to the pervasive health issues faced among the Hispanic community like obesity, diabetes, heart disease and cancer according to the Centers for Disease Control and Prevention. De Colores is a Chicago gem that you need to visit this summer season. Whether you want something sweet or salty, they have you covered everything from a mangonada (a cup full of mango deliciousness that includes lime juice and chili powder) to paletas con fruta fresca (popsicles that have real fruit pieces). Mention Lawndale and receive a 10 percent discount on your purchase! The deal couldn't be any sweeter.