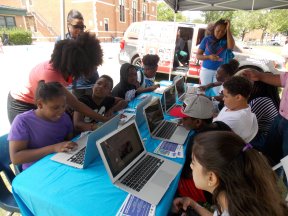 Al dejar los jóvenes sus salones de clase para el verano esta semana, Chicago City of Learning (CCOL) se une a las Escuelas Públicas de Chicago en Lovett Elementary para anunciar "Get Set for Summer" con más de 5,000 oportunidades de aprendizaje de verano, en persona y en línea. para jóvenes y adolescentes en los próximos meses. CCOL conecta a las familias y a los jóvenes (4-24) a oportunidades diversas de aprendizaje, basadas en su interés y fuera de la escuela, que les ofrece de todo, desde códigos de computadora a lecciones de piano. Además de brindar un valioso recurso a las familias de Chicago, CCOL registra también las experiencias informales de aprendizaje de los jóvenes en portafolios en línea, para que tengan un récord de las destrezas y conocimientos que obtienen. Patrocinado por Comcast, Best Buy y Chicago Housing Authority, los laboratorios móviles de CCOL llevan wifi, laptops y tutores entrenados a espacios de aprendizaje no tradicionales de la ciudad. Este verano, la flota ofrecerá tres días talleres FUSE, los que permiten a los jóvenes dirigir su propia exploración de aprendizaje en Ciencias, Tecnología, Ingeniería y Matemáticas (STEM). Para más información, visite chicagocityoflearning.org.
Pie de Fotos:
Imagen 1: Más de 5,000 programas disponibles en Chicago City of Learning en Chicago este verano.
Imagen 2: La Dra Sybil Madison-Boyd, Directora del Programa Learning Pathways de CCOL y tutores ayudan a estudiantes de la escuela Lovett Elementary a explorar más de 5,000 oportunidades de aprendizaje de verano de la ciudad antes de terminar el año escolar.