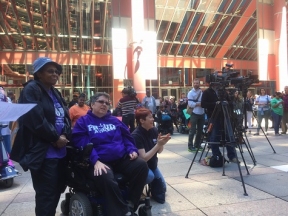 Por: Ashmar Mandou
Los simpatizantes y representantes del cuidado de salud de más de 30 diferentes organizaciones en el estado hicieron una manifestación frente al Centro Thompson el martes, para protestar por los efectos que el Acta de Cuidado de Salud Estadounidense tendrá sobre personas discapacitadas.
Se calcula que el Acta American Health Care, aprobada esta primavera por la Cámara de Representantes de E.U. cortará más de $800 mil millones de Medicaid en los próximos diez años. Esto quiere decir $24 mil millones en fondos federales para Illinois, los que proveen a cerca de 500,000 personas discapacitadas el apoyo que les permite vivir independientemente. En Illinois, Medicaid brinda a cerca de 500,000 personas discapacitadas el acceso al apoyo que les permite vivir independientemente. Bajo el Acta American Health Care, "tope per capita" devastará los servicios provistos por Medicid en la próxima década. Illinois pierde $24 mil millones en financiamiento federal. Miles de personas discapacitadas perderán el acceso a servicios de salud especializados, como enfermería, cuidado personal y terapia, de acuerdo a la organización no lucrativa Access Living.
El Representante de Illinois Greg Harris (Distrito 13) el Representante Will Guzzardi (Distrito 39) y la Represenante Theresa Mah (Distrito 2) asistieron y hablaron el martes en la manifestación. Hasta el lunes, 5 de junio, los patrocinadores del mitin incluyeron a: Access Living, Alliance for Community Services, Anixter Center, The Arc of Illinois, Austism Speaks Illinois, BNICH, Caring Across Generations, Chicago ADAPT, The Chicagoland Leadership Council, Communities United, Crosspoint Human Services, Ecker Center for Mental Health, Equip for Equality, Everthrive Illinois, Friends Who March, Health and Disability Advocates, Health and Medicine Policy Research Group, Healthcare Rights Coalition, Illinois Network of Centers for Independent Living, IMPRUVE, Indivisible Chicago, IPADD UNITE, Legal Council for Health Justice, Mental Health Summit, Metropolitan Chicago Breast Cancer Task Force, National Multiple Sclerosis Society, Next Steps NFP, Planned Parenthood Illinois, Progress Center for Independent Living, Protect Our Care Illinois [grupo de coalición], Supporting Illinois Brothers and Sisters (S.I.B.S.), Thresholds. La manifestación de Chicago fue una de siete manifestaciones en el país, organizada bajo el estandarte "Don't Cap My Care". Miles de simpatizantes hablaron en apoyo a los fuertes servicios de Medicaid que protegen la vida de personas con discapacidades, los mantienen fuera de las instituciones y les permiten vivir independientemente en comunidades integradas.