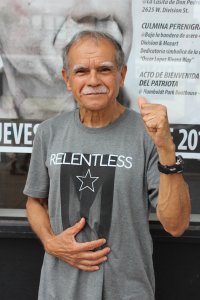 By: Ashmar Mandou
For nearly three decades, posters and effervescent murals depicting the life of political activist Oscar Lopez Rivera adorned a strip of Division Street, known as Paseo Boricua. For many deeply rooted Humboldt Park residents, the legacy of Lopez's tenacity and resilience were highly revered, often looked at as examples on how to bring equal opportunities to an underserved community. Lopez was considered a top leader of the Armed Forces of National Liberation, or FALN, an ultranationalist Puerto Rican group that claimed responsibility for more than 100 bombings at government buildings, department stores, banks and restaurants in New York, Chicago, Washington and Puerto Rico during the 1970s and early '80s. In 1981, Lopez was sentenced to 55 years in prison as he was found guilty of seditious conspiracy. Lopez had become a free man after gaining early release after former President Barack Obama commuted his sentence in January. Since then he has been on house arrest in Puerto Rico. He returned to Chicago on May 18th. As this year marks the annual celebration of the Fiestas Puertorriqueñas in Humboldt Park (June 15th through June 18th), Lopez will serve as the grand marshal to the parade. Prior to the festival, Lopez sat down with Lawndale Bilingual Newspaper for a brief interview about his thoughts in regards to the community he loves dearly and how people should fight for social justice.
Social Justice
I believe people in this community, historically have had to fight for freedom and justice in this particular community. You go back 40 or 50 years, when people faced opposition, the community responded. We did all kinds of work here. A good example, for four years we fought to have a high school here, which is now Clemente High School. We fought for Van Humboldt School. We fought for more classrooms, we fought for equal education here. There was so much struggle, but people persevered because they believed in freedom and justice in their hearts.
Humboldt Park
What I am afraid now is gentrification. I see that is affecting a lot of people. I see a lot of developers coming in and taking up a lot of property, squeezing everyone out. What I pray and what I hope is that people are willing to stay here to defend it. To make sure that this little area here remains as nice and to make it better. This is a beautiful place and there is a history here. I hope the people of this community can stay here.
Promoting Peace and Equality
First of all, if we want changes we have to struggle for them. There is no time better than now to make sure that the things that are necessary, such as healthcare, social equality, safer neighborhoods, are worth fighting for and are a struggle that we will not overcome easily. It's a struggle. Washington, D.C., can do whatever they feel like doing, but if people rise up to lend their voice, there is always an ear that will hear that voice. We have to lift up. We have to lift our voices. We have to make our bodies available so people can see that we want better education, better services, better health and a better life. We want to be seen and we want to be heard.
Fiestas Puertorriqueñas
It is always great to celebrate culture, and your identity. I think it is great to welcome others to enjoy our culture. We need as much love as we can, not only for ourselves, but for others. This celebration will serve as a reflection of the love that is lives in this community. I am hoping that everybody will be enjoying, singing, dancing, and laughing.