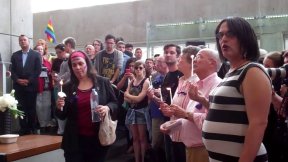 Por Ashmar Mandou
En el primer aniversario de la trágica balaera en el centro nocturno Pulse en Orlando, el 12 de junio del año pasado, cientos de personas sostuvieron una vigilia en recordación de quienes resultaron muertos, el lunes fuera del Center on Halsted. "Lloramos a las víctimas de la balacera en el club nocturno Pulse de Orlando, popular lugar gay", dijo Equality Illinois en una declaración. "Aunque todavía no sabemos el motivo de la balacera, sabemos que todos deberíamos sentirnos seguros en nuestras casas, nuestras escuelas y los lugares de comercio y entretenimiento. Nuestros corazones van a la comunidad LGBT de Orlando y a la familia y amigos de las víctimas y deseamos una pronta recuperación a los afectados".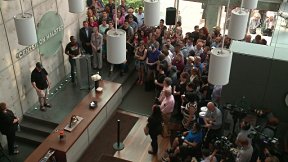 Cientos de personas asistieron a la reunión llenando el vestíbulo del centro, saliendo por la calle donde tuvieron la oportunidad de escuchar a oradores como los Concejales Tom Tunney y Raymond López. López recordó a la audiencia que la balacera de Orlando fue un "doble crimen de odio", ya que muchas de las víctimas eran LGBTs latinos. "A mis hermanos y heramanas latinos, no solo en Orlando, sino en Chicago y en el país entero, les recuerdo que no dejen a su cultura caer en las garras de este odio", dijo López. "Nuestra cultura está hecha de fé y de familia, compasión y cuidado y no de balas, no entre las palabras de odio y el fanatismo que pretende apoderarse de nuestras comunidad".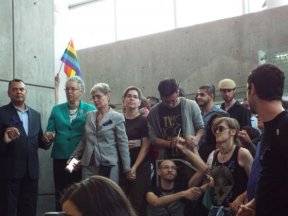 El Alcalde Rahm Emanuel, quien estaba entre los asistentes, se dirigió a la multitud. "Dejemos que la ciudad entera, en este mes del orgullo gay, se una como una sola voz y compartamos un sentido común de tolerancia e inclusión. Donde todos se sientan cómodos. Todos tienen algo con que contribuir. Nuestro poder es responder a lo que ocurre con esperanza, mostrando al país entero un sentido de lo que es una comunidad que se une y comparte, que tiene un estuche común de valores y un sentido común de lo que somos. No dejen lugar para el odio. Abramos nuestros corazones al amor". El año pasado, el pistolero Omar Mateen abrió fuego el domingo por la mañana en Pulse Orlando, matando a 50 personas.
La Presidente del Condado de Cook, Tony Preckwinkle, dijo, "Tristemente, este no será el último ataque a nuestros compañeros estadounidenses en su propia casa, pero los que piensan en futuros ataques deben saber que la violencia que planean solo profundiza nuestra resolución de luchar contra el odio y la intolerancia que el terrorismo representa". Sol Flores, directora ejecutiva de La Casa Norte, que ofrece servicios a jóvenes desamparados y Terry, quien participa en el Programa Juvenil del Centro (y cuyo apellido no nos fue proporcionado), recuerdan a la audiencia que la mayoría de víctimas en Orlando fueron jóvenes de 20 a 30 años. "Cuando empecé este trabajo, prometí asegurarme de que cada esquina de esta ciudad era un lugar seguro para los jóvenes, de Humboldt Park a Lake View, de Back of the Yards a Roger Park", dijo Flores.
Center on Halsted es un centro comunitario dedicado a construir y fortalecer a la comunidad Lesbiana, Homosexual, Bisexual, Transgénero y Queer (LGBTQ).