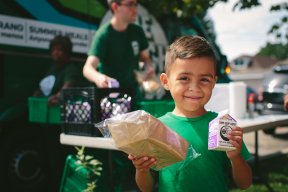 By: Ashmar Mandou
Now that the official school year has ended, many low-income parents become concerned over their child's health during summer break. According to the Greater Chicago Food Depository, once the school year ends, thousands of children in Chicago no longer receive the free and reduced-price meals they have received at school. Nationally, only 15 of every 100 children who receive free or reduced-price school meals utilize summer meals, according to the Food Resource and Action Center. In Cook County, the need is higher. Sixty-nine percent of eligible children received free or reduced-price meals at schools. However, only 12 percent of those children will utilize summer meals. To combat hunger and ensure every child receives a nutritional meal, the Greater Chicago Food Depository, with the help of the United States Department of Agriculture's Summer Food Service Program (SFSP); the Illinois State Board of Education; and the Community Organizing and Family Issues, will distribute summer meals all across the Chicago area. The Greater Chicago Food Depository Lunch Bus will drive out to various neighborhoods across the city to provide access to quality meals for children in need. The Lunch Bus distributes free nutritious lunches to anyone 18 years old and under in priority communities in Cook County through September 1st, Monday through Friday.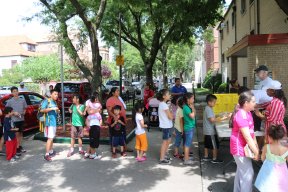 Sites:
Richard M. Daley Library
733 N. Kedzie Ave.
Humboldt Park
1:10p.m., to 1:30p.m.
West Belmont Library
3104 N. Narragansett Ave.
Belmont-Cragin
2:45p.m, to 3:05p.m.
Smith Park
Ashland Ave., and W. 14th Pl.
Chicago Heights
1:45p.m., to 2:05p.m.
Bethel Pentecostal
2726 Broadway St.
Blue Island
2:45p.m., to 3:05p.m.
For the complete list of sites, visit www.chicagofoodbank.org.
Photo Credit: The Greater Chicago Food Depository