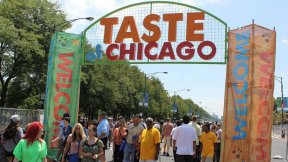 The Chicago Department of Cultural Affairs and Special Events (DCASE) is pleased to offer a cultural experience for all your senses at the 37th Annual Taste of Chicago – the world's largest free admission food festival – this July 5–9 in Grant Park. The summer tradition will showcase Chicago's food, music, arts and family fun with 66 food vendors, national and local music acts on two stages, celebrity chef dining experiences, cultural programming and much more.
Cultural Programming and Sabor de Chicago
New for 2017, the Taste of Chicago will present an assortment of arts events that includes the Street Art & Graffiti Alley featuring live painting from noon to 6 p.m. by local artists – presented as part of the "Year of Public Art" in Chicago. Participating street and graffiti artists are Bunny XLV, ZORZORZOR, Miguel Aquilar "Kane One" and Tyrue "Slang" Jones. The new March of the Puppets is a daily procession of music and spectacle throughout Taste of Chicago. The parades include puppets, artists and performers featuring the Pack Drumline, the Chinelo Dance Group and Environmental Encroachment. Also new this year, on Thursday, July 6, Sabor de Chicago will celebrate the culture of Chicago's Latino community throughout the day with dining, dancing, music performances at the Petrillo Music Shell and Bud Light Stage and much more. For details, visit sabordechicago.us.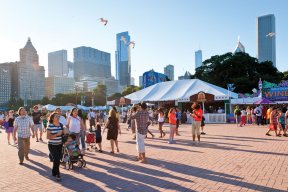 Family Programming
Kids Eat Chicago presented by Chicago Parent Magazine will offer a new, free interactive family fun zone for all ages on Saturday, July 8, and Sunday, July 9, from 10 a.m. to 7 p.m. The full entertainment stage will include food demonstrations by the kids of MasterChef Junior, Momma Cuisine, Pilot Light Chef, Stephen Dunne of Volo and The Kids' Table, as well as music from Little Miss Ann, Istvan & His Imaginary Band, Miss Jamie's Farm, School of Rock and The Happiness Club. Other free activities include face painting, superhero training, princess meet and greet and balloon art. For more information, please visit: kidseatchicago.com.
Live Music at Taste of Chicago
Taste of Chicago will also present a diverse mix of chart-topping, crowd-pleasing nightly concerts at the Petrillo Music Shell that feature Alessia Cara, Café Tacvba, Ben Harper & The Innocent Criminals, Passion Pit and The O'Jays.
Food and Beverage Experiences
The CH Distillery Cocktail Lounge by Buckingham Fountain will offer mixology specials including Moscow Mules, Strawberry Collins, Tropical Rum Punch and the Mint Julep Slushies and music from local DJs. The nearby Beer Hall and Stella Rosa Wine Garden will offer daily music performances to enjoy along with a wide selection of craft beers including Elysian Space Dust IPA, Virtue Harvest Cider, Golden Road Wolf Pup Session IPA and an array of wine varietals from the Riboli Family Winery that includes Stella Rosa Wines, Bodega Sangria, Three Pines Wine and Maddalena Wine.
For more information on the free admission festival, call 312.744.3316 or visit tasteofchicago.us. To plan your trip to Chicago, visit choosechicago.com.