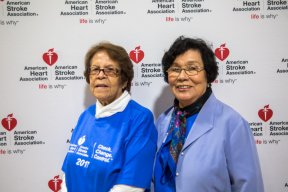 Chicago Housing Authority seniors celebrated the completion of an American Heart Association program that taught them about healthy eating, exercise and how to manage their blood pressure Friday, July 7th at the Charles Hayes Center. Seniors at select CHA buildings participated in "Check. Change. Control," a 12-week program that has resulted in a five percent reduction in the risk of both heart disease and stroke mortality among program participants at CHA – a statistic that is comparable to the entire American Heart Association's Midwest Affiliates' programs. This year's "Check. Change. Control" celebration takes on special meaning as CHA marks its "Year of the Senior" campaign designed to increase the engagement of CHA seniors through programs and initiatives that allow them to live well and life fully.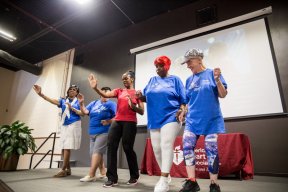 Over the course of five years, 300 CHA seniors have completed the four-month long program. Half of all participants have been successful in reducing blood pressure. Participants met every two weeks, during which time their blood pressure was checked by pharmacists from Walgreens and they participated in educational sessions on heart health, healthy food choices and exercise. Maria Gonzalez, a program participant who lives at Apartamentos Las Americas, shared, "I am a survivor. I had open heart surgery and since then I've had to eat healthier. This program has enabled me to improve my health and, as important, meet my neighbors and join a walking club. I really appreciate the connections that have been created." In 2017, 77 percent of participants completed the 12-week program between March and June, which is the highest overall program retention rate achieved since the program began five years ago.
Photo Caption 1:
Santos Torres (left) and Maria Gonzalez (right), two seniors from Apartamentos Las Americas in the Lower West Side neighborhood, celebrate their health improvements as participants in the American Heart Association's "Check. Change. Control" program.
Photo Caption 2:
CHA Seniors celebrate 5 percent reduction in heart disease and stroke mortality for participants of the American Heart Association's "Check. Change. Control" program.