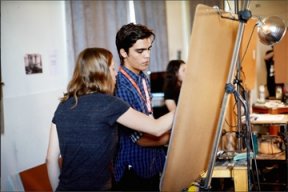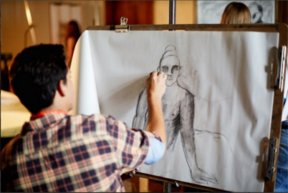 Por: Ashmar Mandou
Crédito de Foto: Maryland Institute of College of Art (MICA)
Por 20 años, Latino Art Beat ha reconocido los talentos artísticos de incontables estudiantes, ofreciendo concursos de arte anuales a los jóvenes en forma de pintura, dibujo, cine y animación. Hasta la fecha, Latino Art Beat ha otorgado $4 millones en becas académicas a estudiantes de Chicago, Houston, Los Angeles, Miami y el Distrito de Columbia. Sin embargo, para conmemorar su 20º aniversario, el Fundador y Presidente de Latino Art Beat, Don Rossi Nuccio, dicidió ampliar el alcance de la organización, desarrollando una afiliación sin precedentes con el Ministro Cubano de Asuntos Culturales y las Casas de Cultura de la Habana, en el 2016, durante un viaje a Cuba como invitado del entonces Presidente Barack Obama y la Casa Blanca. "Lo vi como una oportunidad inequívoca para mostrar el talento y la pasión de los jóvenes cubanos. Mi primera experiencia en Cuba es algo que nunca olvidaré, porque fue como un momento crucial en la historia de Latino Art Beat, representar las similaridades de los jóvenes de Estados Unidos y Cuba en cuanto a talento, inteligencia y amor por sus respectivos países y compañeros".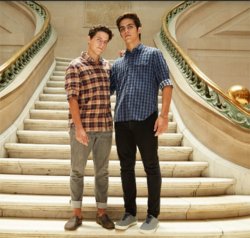 Este verano, Maryland Institute College of Art (MICA) dio la bienvenida a dos adolescentes cubanos, Luis Felipe Betancourt, de 17 años y Favio Felipe González, de 16, para participar en el Programa de Residencia de Estudio Pre-Universitario de MICA. "Esta es una gran iniciativa y un importante paso para unir la división cutural entre Cuba y E.U. Recibir a dos estudiantes cubanos en MICA, creará nuevos vínculos con artistas similares y aprenderán las últimas técnicas y tecnología en arte y cine para llevar con ellos a casa", dijo Nuccio, quien sostuvo una competencia de arte antes en la Habana, la que seleccionó a Betancourt y a González como ganadores. La competencia de arte de los jóvenes cubanos estuvo centrada en el tema "Amistad entre los Jóvenes de Estados Unidos y Cuba", y la obra de Betancourt y González representó su deseo por un mayor entendimiento cultural entre los jóvenes de ambas naciones, mientras celebran su herencia cutural. La afiliación marca la primera iniciativa de educación nacional entre Estados Unidos y Cuba en la que una organización de arte estadounidense pudo asociarse con el Ministerio de Cultura del gobierno cubano para ofreer una competencia de arte a los estudiantes cubanos, con la recompensa de una beca para el programa Pre-Universitario de MICA. "Por más de 15 años, MICA ha trabajado con Latino Art Beat para brindar programas de becas para los estudiantes de arte latinos en E. U. Con este nuevo programa, único en su clase, estamos orgullosos de ampliar nuestra afiiación con LAB para apoyar a jóvenes artistas cubanos con la esperanza de promover la amistad y la comprensión entre nuestros países", dijo Theresa Bedoy, decana y vicepresidenta de MICA, en admisiones y ayuda financiera.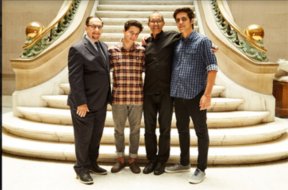 En cuanto a Betancourt y González, el viaje probó ser el viaje de su vida. "Latino Art Beat es una organización que ha abierto caminos de inmensas posibilidades porque nunca habría imaginado que estaría en un lugar y obtendría experiencia en una universidad como Maryland Institute College or Art sin ellos", dijo Betancourt. "En mi experiencia, yo recomendaría este programa a mis compañeros en Cuba porque se aprende mucho de arte, de amistad y de uno mismo. A través de este programa uno puede mejorar como artista y como ser humano". González hizo eco en un sentimiento similar, "Mi experiencia con Latino Art Beat ha sido maravillosa, me enfrenté a una nueva forma de aprender, de pensar, un sentido de confianza. Fue una experiencia maravillosa y me siento orgulloso de haber sido parte de esto y animo a otros estudiantes a que participen. Si desea más información sobre el programa, visite www.latinoartbeat.com.