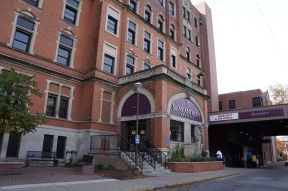 WHO: Saint Anthony Hospital
WHAT: The hospital is hosting a job fair for entry level through management positions in clinical and nonclinical areas. All individuals who are looking for a new and rewarding career in community health care should stop by the event. Recruiters and Department Managers will be on-site to answer questions and conduct informal interviews. Any interested candidates should bring extra copies of their resume. View current opportunities available and apply online at SAHChicago.org.
WHERE: Second Federal Savings Bank Community Room, 3960 West 26th Street, Chicago
WHEN: Wednesday, July 26, 2017, 2 – 6 p.m.
About Saint Anthony Hospital
For more than a century, Saint Anthony Hospital is a community-centered organization that has served more than 400,000 residents on Chicago's West and Southwest sides. Saint Anthony Hospital, its affiliated clinics and community wellness centers are committed to providing quality health and wellness services, as well as a wide variety of free bilingual community health education and outreach programs.