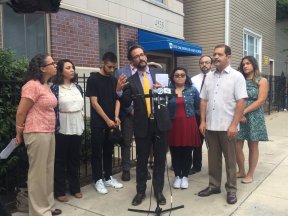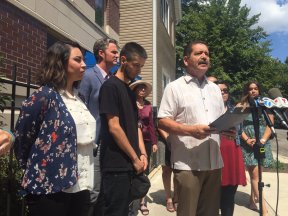 By: Ashmar Mandou
In the heart of the Back-of-the-Yards community, there is a program making a profound impact on at-risk youth. During a press conference outside of Centro Tepeyac, located at 4538 S. Hermitage, Commissioner Jesus "Chuy" Garcia and the Brighton Park Neighborhood Council (BPNC), and representatives of the Justice Advisory Council/Office of Cook County Board President Toni Preckwinkle praised the Career Launch Pilot for working with youth in paid internships. "We need to create more investment in communities like Back-of-the-Yards," said Commissioner Garcia. "Violence in our community is increasing alongside joblessness. We need to create more opportunities for youth. We need to do more."
The goal of this type of program is to help reduce the violence in a positive environment and building life skills. Violence prevention takes many forms. Since the Back of the Yards community has experienced a spike in violence in the last few years, BPNC partnered with Back of the Yards High School and Casa Tepeyac to provide the Career Launch Pilot Program. Through this program, funded by the Cook County Justice Advisory Council in the Office of Cook County Board President Toni Preckwinkle, 35 16-24 year olds were selected for a paid internship where they gain workforce skills soft skills like resume building, interview skills, professionalism, job search), receive comprehensive case management, receive legal services, and are connected to hard skill workforce programs and job search firms. Through this endeavor, the young people are gaining the supports they need to enter the workforce or be connected back to an educational institution. Brighton Park Neighborhood Council (BPNC) is a community-based, grassroots organization located on Chicago's Southwest side. We work to empower our community and build its capacity by providing school and community-based services. BPNC also engages leaders in social justice organizing campaigns.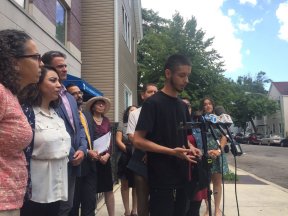 Participants of the Career Launch Pilot shared their experience by describing the program as a vital one that offers numerous benefits, such as confidence during interviews. "This program is extremely important for us because it gives us skills to be successful in life," said one participant during the press conference. "I am very grateful to Career Launch Pilot."
We are trying to get ahead of the problem by getting these youth jobs. We had 600 applications and we hope to increase the participation," said one representative of the Office County Board Preckwinkle.