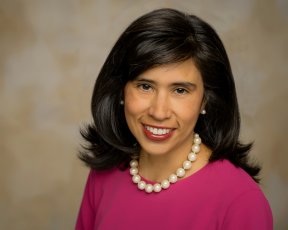 By: Ashmar Mandou
We begin our Hispanic Heritage Month special editions by honoring President and CEO of Women Employed Iliana A. Mora, who is highly regarded in the non-profit sector, having worked with Erie Family Health Center. For more than a decade, Mora has dedicated her efforts to positively encouraging Latinas to use their voice and equip them with the tools to succeed in the workplace. We interviewed Mora in honor of Hispanic Heritage Month and hope her story and mission compels you to give back.
Lawndale Bilingual Newspaper: Each year we highlight and celebrate Latinos who have impacted their communities during Hispanic Heritage Month. Who has impacted your life and helped you to become the person you are today?
Iliana A. Mora: My grandmother, my mother. Each of them had eight children and one of them was a strong leader behind her husband. I feel it was a strong influence on his success. The other one had her way to eight kids and did her way very successfully. I think each of them taught me perseverance and not backing down and keep going at it when things might not go the way you want. They were both very local and had strong beliefs in women and what women have the capacity to do. They carried that on to their kids and then into me. I think it goes back to them as an excellent example.
You are no stranger to the non-profit sector. Prior to your appointment as President and CEO of Women Employed, you worked at Erie as Manager of Community Relations and Planning. What aspects of the non-profit world do you enjoy the most?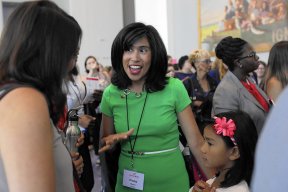 When I started working years ago I started as manager and then my recent role is chief operating officer at Erie. The aspect that I most enjoy is the ability to make change and improve the individual lives and community and systems at large to have access to services or to opportunity that others may not have access to. I think what I enjoy most is creating that opportunity, creating the situations to opportunity. You are impacting people's lives pretty directly in a positive manner and you are seeing that positive change transform lives. It's a gift to be able to do that. It's a privilege to be able to serve and positively influence people's lives.
What lessons and experiences are you looking forward to bringing to Women Employed?
I am looking forward to representing Women Employed as a Latina as the experiences of being Latina in the workplace. What is it like to be a Latina mother, working and managing that all and being a voice for non-English speaking communities of being a voice for communities of color, of having a deep understanding also of communities where low wage jobs are the main employment opportunity and the struggles that come with low wage jobs, the experiences of how you excel and move ahead professionally as a Latina.
How do you hope to propel Women Employed's mission under your leadership?
I really hope to create an organization that advances the work for working women and families. Not all women are mothers but many of us are in care giver roles and I see an opportunity for us to be making progress for families, as well, being that women play huge role in care giving. I'd like for Women Employed to represent a Women Shared Agenda with different ethnic background, age, sex orientation and crate a diverse women agenda. I want Women Employed to represent and understand that reducing racial equities is necessary in achieving economic equity for working women. I'd like for women to drive our stories and messages, drive public conversation around working women and making it a public force and to mobilize people for change. Those are some of the things I hope to change.
Altruism is key for the betterment of a community. From your standpoint, how would you advise others to invest and give back?
Find something that you are very passionate about. Find something that you really want to change or something that really fires you up and support that cause. Become engaged. Inform yourself. Speak up. Stand up. Participate in the process of having this voice heard.
What motivates you each day?
The opportunity I see every day to make more positive change and the women and the men who are standing up, showing up, speaking up for a change. That is very motivating to me.
What does Hispanic Heritage Month signify to you?
A recognition and celebration of Latinos how and what Latinos have contributed to this country and how we are currently contributing and how we will contribute. To me it is a recognition of our challenge, our skills, our experiences and our stories in shaping the country. We are a Latino community and we need to continue to be engaged, continue to work together to have our voices be heard, continue to show up and in order to make progress and I would welcome all Latinos who are interested in making progress for women and progress in the Latino community. As a Latina myself I am very much interested in the Latina Voice in our work.