Por: Ashmar Mandou
Representantes de Journey for Justice Alliance, Grassroots Education Movement, Northside Action for Justice y Kenwood Oakland Community Organization condujeron una conferencia de prensa el miércoles en la mañana en la Alcaldía, para oponerse a la privatización y pérdida de escuelas comunitarias en los barrios, cosa que ha afectado la vida de los niños, en su mayoría negros y latinos. La campaña #WECHOOSE y Grassroots Education Movement (GEM) han formado una coalición de grupos de comunidades y trabajo en la ciudad de Chicago, organizándose por la equidad en la educación pública. GEM es miembro de #WECHOOSE , que en más de 30 ciudades de Estados Unidos resiste activamente la privatización de las escuelas y la construcción de coaliciones locales, para finalmente ganar equidad como fuera aprobado por la Corte Suprema de E.U. Brown v. La Decisión de la Junta de Educación de 1954. La coalición pide una moratoria en la privatización de escuelas y pide que CPS cumpla su acuerdo, codificado en su contrato con el Sindicato de Maestros de Chicago para identificar y patrocinar 22 escuelas comunitarias existentes, convirtiéndolas en escuelas públicas sustentables. Tras una conferencia de prensa, los miembros de la coalición participarán en comentarios públicos de la junta del Concilio de la Ciudad. Aunque CPS ha reconocido la necesidad de escuelas comunitarias sustentables, su liderazgo se ha estancado y disimulado en las juntas para implementar su compromiso. La campaña de ruptura exhortará a la ciudad y a CPS a cumplir sus compromisos. La campaña #WECHOOSE tiene una visión para CPS como distrito escolar público sustentable: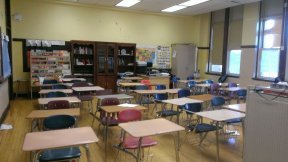 Invertir en Escuelas Comunitarias
Educación Equitativa para Todos los Estudiantes
Despenalizar a los Estudiantes Utilizando Métodos Restaurativos Justos
Incluir las Voces de Padres y Maestros en las Decisiones
Garantizar que los Estudiantes Tienen Servicios de Apoyo Esenciales para su Progreso en la Escuela
Enfatizar la Enseñanza contra el Alto Riesgo
La campaña nacional #WeChoose incluye a: Network for Public Education, BadAss Teachers Association, Alliance to Reclaim our Schools, The Advancement Project, The Education Justice Network, Alliance for Education, Annenberg Institute for School Reform at Brown University, Dignity in Schools Campaign, Save Our Schools, Institute for Democratic Education in America and Journey for Justice Alliance, cuyo liderazgo combinado representa millones de estadounidenses. Para más información visite www.j4jalliance.com.