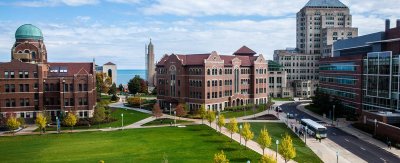 Loyola University Medical Center and Loyola University Chicago Health Sciences Division leaders were joined by elected officials Tuesday, Oct. 17th, for a ceremonial groundbreaking on a Stormwater abatement project that will help relieve flooding on the 61-acre campus and in surrounding communities. "As a Level 1 trauma center, it is imperative that emergency crews, patients and our healthcare colleagues can get to Loyola 24/7, especially during extreme weather when the need may be greater," said Larry M. Goldberg, president and CEO, Loyola University Health System. "This infrastructure investment – essentially a mini deep tunnel – will allow us to deliver exceptional, compassionate care without interruption." The first phase of the project is funded by a $5.5 million Cook County and U.S. Department of Housing and Urban Development (HUD) Community Development Block Grant Program for Disaster Relief.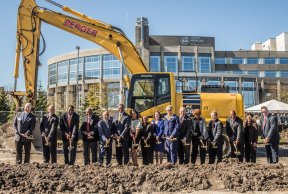 Cook County President Toni Preckwinkle said Loyola University Chicago and Loyola University Medical Center are vital anchors in Maywood as well as regional and state healthcare coordinating centers. "I am pleased that a substantial investment from Cook County's Community Development Block Grant –Disaster Relief program is going towards this project," she said. Located just west of the Des Plaines River, the Loyola University Medical Center campus has experienced periodic flooding since the 1990s. In April 2013, a major storm impacted the Level 1 trauma center, 547-bed hospital, Loyola University Chicago Stritch School of Medicine and Marcella Niehoff School of Nursing, resulting in access issues for patients, ambulances, employees and students. To learn more about Loyola Medicine or find a physician, visit loyolamedicine.org.
PHOTO CAPTION:
Pictured (L-R): Metropolitan Water Reclamation District Commissioner Martin Durkan, HUD Midwest Deputy Regional Administrator James A. Cunningham, Maywood Village Trustee Isiah Brandon, U.S. Congressman Danny Davis, MWRD Commissioner Frank Avila, Cook County Commissioner Richard Boykin, MWRD Commissioner Kari K. Steele, Maywood Mayor Edwenna Perkins, Loyola University Chicago Health Sciences Division Provost Margaret Faut Callahan, Cook County Board President Toni Preckwinkle, Loyola University Health System President & CEO Larry M. Goldberg, MWRD Commissioner Barbara McGowan, Cook County Commissioner John Daley, Illinois Rep. Emanuel "Chris" Welch, MWRD Commissioner Debra Shore and Cook County Commissioner Jeff Tobolski.