Have you ever wonder what women in Spain use to soothe dry skin or what ladies in Colombia use to clear up skin blemishes? Beauty secrets can be found from Barcelona to Medellin, and beauty brands have taken note and started incorporating them into their latest treatments. Below, are four of the best global beauty ingredients and their benefits.
Aloe Vera – Native to tropical regions around the world, including Mexico, Aloe Vera has been used for thousands of years to alleviate skin problems. It contains amino acids and vitamins A, B, C and E that help moisturize and restore skin. The Nubian Heritage Shea Butter & Aloe Vera Body Lotion contains Aloe Vera to naturally hydrate skin while Cocoa and Shea Butters help soften and condition it.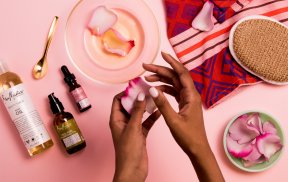 African Black Soap – African Black soap is made with locally harvested pl¬¬¬ants such as plantains, cocoa pods, palm tree leaves and shea tree bark which are then sun-dried and roasted, to give it its signature deep black color. Coconut, shea and palm oils are added to this mixture which is then left to cure. This combination of natural ingredients makes African Black Soap an effective, gentle cleanser that also exfoliates and calms irritated or inflamed skin. The SheaMoisture African Black Soap Clarifying Mud Mask contains a proprietary blend of African Black Soap and Raw Shea Butter that helps clarify, balance and soothe blemish-prone skin.
Maracuja Oil – Not only is Brazil home to beautiful beaches and samba, it is also home to the passion fruit or maracuja. Maracuja oil is packed with antioxidants, vitamins, and minerals that brighten skin and help reduce inflammation. The Nyakio Maracuja & Yangu Soothing Oil contains cold pressed Maracuja and Yangu oils that calm and nourish skin.
Baobab – Baobab, also known as the tree of life, is native to several countries in Africa, where it is revered for its many health benefits. It is rich in antioxidants which protect skin against free radicals and its high Vitamin C content can improve skin elasticity. The Nyakio Baobab Youth Infused Daily Defense Crème contains antioxidant-rich baobab oil that will help restore your skin's natural glow.