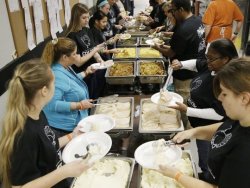 Por: Ashmar Mandou
Con el espíritu del Día de gracias y caridad, varias organizaciones de la Ciudad abrirán sus puertas para ayudar a las familias con hambre a que tengan una comida caliente y conversen con personas de todas partes. Hemos recopilado una lista de organizaciones que ofrecen comidas en las próximas semanas.
Iglesia de la Ascensión
1133 N. LaSalle Dr., Chicago
312-664-1271
Cada año, miembros de la parroquia preparan y sirven una comida del Día de Gracias. Se invita a todos y la comida es gratis. Algunos miembros de la parroquia donan pavos preprados y alimentos necesarios, como pays y arándanos. Se necesitan voluntarios para cocinar y servir a nuestra comunidad local ya que le ofrecemos una Comida del Día de Gracias gratis después de los servicios, típicamente el domingo antes del Día de Gracias (empezando aproximadamente a la 1 p.m.) Si está interesado en ayudar de alguna forma (cocinando los pavos u otros alimentos, arrreglando, limpiando, sirviendo, etc.), comuníquese con la parroquia en office@ascensionchicago.org.
Furious Spoon
1316 W. 18th St., Chicago
312-624-8461
El local de Pilsen de Furious Spoon una vez más dará comida gratis el Día de Gracias, entre 11 a.m. y 3:30 p.m. el jueves, 23 de noviembre. Lo que se recaude de cualquier cliente que pague será donado a The Pilsen Alliance y utilizado en programas para jóvenes.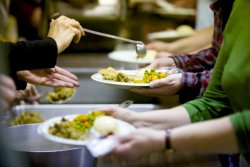 The Salvation Army
290 W. Crystal Lake Avenue, Crystal Lake
Se invita a los miembros de la comunidad a disfrutar de una comida del Día de Gracias servida por el personal y voluntarios del Salvation Army, incluyendo pavo relleno, salsa de arándanos, puré de papas, postre y bebidas. Se esperan muchas personas porque disfrutan el compañerismo, otras porque les es difícil preparar una comida y para otros es la alegría de poder dar algo a otros. No importa la razón, todos son bienvenidos. La comida se servirá entre 11:30 a.m. a 3:00 p.m.
People Church
1147 N. Western Avenue
www.peoplechurch.org
Durante el mes de noviembre, las comidas del Día de Gracias de People Church se sirven en diferentes fechas en toda la ciudad. La próxima comida del Día de Gracias tendrá lugar el sábado, 18 de noviembre, entre 4 p.m. y 9 p.m.
The Chicago Help Initiative
721 N. LaSalle St., Chicago
Cada miércoles se ofrece una nutritiva comida a 135 invitados en los comedores provistos por Catholic Charities, localizados en el 721 N. LaSalle St., en Chicago. Las comidas son donadas por restaurantes del área, hoteles, comercios, miembros de juntas, amigos y sus familias y miembros de la comunidad que desean hacer una diferencia en la vida de los menos afortunados.