Por: Ashmar Mandou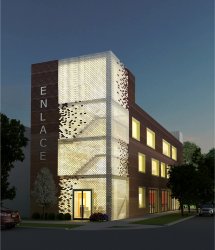 Enlace recibió recientemente un considerable subsidio de The Harry and Jeanette Weinberg Foundation, Inc., para apoyar la construcción de una nueva oficina, de 9,000 pies cuadrados y espacio comunitario en La Villita, garantizando la terminación del proyecto. El nuevo edificio permitirá a Enlace brindar servicios completos en educación, salud, inmigración/ayuda legal y prevención a la violencia. El edificio, de tres pisos, tendrá un espacioso centro de recibimiento, salones comunitarios de propósitos múltiples, varias salas de consejería individual, un techo-jardín y eficientes espacios de trabajo para el creciente personal de Enlace. "Nuestro nuevo edificio nos ayudará a trabajar más eficientemente y servirá como un lugar de servicios completos para los miembros de la comunidad de La Villita que buscan servicios y oportunidades", dijo Katya Nuques, directora ejecutiva de Enlace.
En el 2014, Enlace recibió un subsidio de capital de $2 millones de Department of Commerce and Economy Opportunity (DCEO) para el proyecto. En junio del 2015, Enlace recibió una carta diciendo que el subsidio no había sido asignado y que los fondos estaban congelados debido al impasse presupuestario. En colaboración con otras agencias, cuyos fondos de capital habían sido también congelados, Enlace luchó por obtener permiso para gastar el primer pago del subsidio DCEO. En mayo, Enlace recibió una carta diciendo que se le permitía gastar el 25 por ciento del total de fondos. Enlace no pudo demorar la construcción más, anticipando los fondos restantes, ya que era responsable de las esperanzas de DCEO y otros patrocinadores.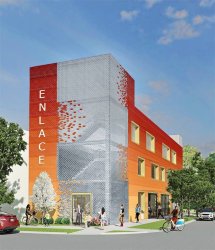 Con el apoyo de IFF, completó un segundo estudio de viabilidad financiera que incluyó un plan y presupuesto de construcción ideal así como un plan y presupuesto alterno que satisfaría los cortos plazos establecidos por DCEO y otros simpatizantes del proyecto, permitiendo que Enlace siguiera sin los fondos estatales adicionales. En el 2001, Enlace compró su oficina principal actual, la que era apropiada para lo que entonces era un personal de cinco. El edificio continúa sirviendo como oficina principal de Enlace, aunque el personal ha crecido a 40 empleados de tiempo completo y más de 100 empleados de medio tiempo. La programación de Enlace está severamente restringida por la falta de espacio adecuado. Por ejemplo, Enlace organiza talleres comunitarios y provee servicios legales gratuitos a través de una afiliación con Community Activism Law Alliance (CALA) para apoyar a los residentes en casos relacionados a diferentes problemas, incluyendo inmigración, ley familiar, empleo y vivienda. Enlace sirve a más de 8,000 residentes de La Villita en sus dos oficinas, ocho afiliaciones escolares locales y otros arreglos de colaboración que proveen espacio para programación y servicios. En su primer año, la nueva instalación sola permitirá que Enlace sirva a más de 3,000 residentes adicionales.