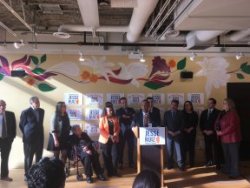 By: Nancy Marquez
As primary elections are underway this March, Congressman Luis Gutierrez held a press conference on November 20th at the National Museum of Mexican Art to announce his endorsement for Illinois Attorney General Candidate Jesse Ruiz. Ruiz, who is heavily revered for his integrity and commitment to public service, promises to defend against the attacks of Trump towards women, Muslims, immigrants and other groups in this critical time. Self-proclaimed as the people's lawyer, Ruiz mentions he will address concerning issues like healthcare, the high rise of tax bill, and better protective measures for the environment. Ruiz wants to enforce Latino voters to go to the polls, vote for progressive values and an attorney general who will stand up against Trump's administration. Also, protect the most cherished values, fairness, freedom and democracy and defends people's rights as the next Latino Attorney General in the State of Illinois.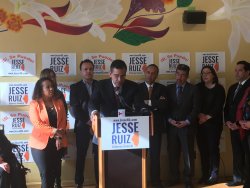 "There has never been a time in my years in public office when we needed a chief's lawyer, people's lawyer like we need Jesse Ruiz today. He understands, he is proud of his roots, but understands how to build coalition, he has the talent. He has shown it at the Chicago Park District and the Board of Education. How many people leave a lucrative law practice to work for the public, and for third of his salary not many, that is demonstrative for his commitment to the community," said Congressman Luis Gutierrez who believes Jesse Ruiz, a son of Mexican immigrants, will understands people's fundamental rights in order to protect and fight for them. "The next time our community is under attack, or anybody that is vulnerable, regardless of their national origin, or their color of their skin, their ethnicity. I know Jesse Ruiz is going to stand up for them. He knows what it is like to be on the other end of that barrel being attacked. I trust him, he is going to be the people's lawyer," said Gutierrez.
Jesse Ruiz wants to be on the frontlines of immigrant's rights to defend against the injustice and vicious attacks from President Trump. "I want to be able to protect their rights about the attacks of the president who doesn't seem to worry about attacking different groups and started attacking Mexicans since the day he announced his presidency and attacked other groups all the time," said Ruiz. Ruiz wants to take charge and use that power as the next Latino Attorney General to defend people's rights. "We have seen that attorney general become the frontline defense against those who have been affected, and so I want to be there in the frontline fighting for the rights of Illinois but also protecting their rights as consumers, protecting their health care, protecting their environment, making sure we have criminal justice reform and open and honest transparent government; so I want to continue that work," said Ruiz.