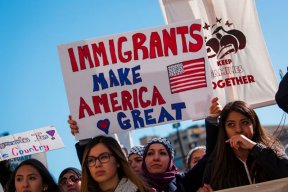 Por: Ashmar Mandou
Inmigrantes indocumentados, sus amigos, familiares y aliados progresivos esperan acción en Chicago, Washington, D.C., y en ciudades de toda la nación, para exhortar al Congreso a que Apruebe el Acta de los SOÑADORES ahora, antes de que salgan para el receso navideño. A principios de este mes, 14 Senadores incluyendo ocho demócratas votaron NO en el último voto del presupuesto a principios de este mes. Los Senadores Durbin, Duckworth, Feinstein, Kaine, Schumer y otros fueron señalados por la Coalición de Illinois Pro Derechos del Refugiado y el Inmigrante (ICIRR), National Korean American Service & Education Consortium (NAKASEC), Make The Road NY, Coalition for Humane Immigrant Rights Los Angeles (CHIRLA), CASA, United We DREAM, New York Immigration Coalition, FIRM y otros.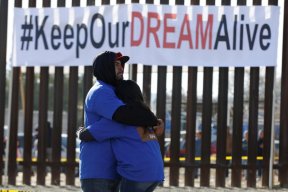 En Chicago, miembros de ICIRR y aliados se reunieron en la Plaza Federal con cientos de personas para pedir que retuvieran su voto por cualquier gasto que no incluya el Acta DREAM, El Senador Durbin se comprometió a votar no a un presupuesto que no incluya el Acta DREAM el miércoles. Los defensores piden que haga que sus colegas hagan lo mismo. "Las familias inmigrantes necesitan protección hoy y demorar el Acta DREAM es irresponsable y cruel. En toda la nación nuestras comunidades piden al Congreso que actúe ahora por el futuro de 11 millones de personas que merecen vivir en paz y con dignidad", dijo Lawrence Benito, CEO de ICIRR. Entre las Organizaciones Miembros de ICIRR que asistieron a la manifestación se incluyeron a South Suburban Immigrant Project, PASO-West Suburban Action Project, ENLACE Chicago, Access Living, Brighton Park Neighborhood Coundil, ERIE House, Communities United, Alliance for Filipinos for Immigrant Rights and Empowerment (AFIRE). SEIU Local 1, Mujeres Latinas en Acción, Centro de Trabajadores Unidos, Jewish Council on Urban Affairs y Southwest Organizing Project.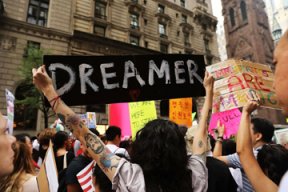 Los líderes Inmigrantes de Illinois que dirigen una acción directa en las oficinas del Senador Duckworth y Durbin son South Suburban Immigrant Project, PASO-West Suburban Action Project y Protection For All. Protection For All es una organización conducida por jóvenes inmigrantes, independiente de FIRM network. En D.C., HANA Center, organización miembro de ICIRR organizó también una acción dentro de la oficina del Senador Durbin. "Los miembros del Congreso tienen que decidir si se alinean con los supremacistas blancos o si dejan el voto para proteger a los más de 800,000 jóvenes inmigrantes indocumentados que son cien por ciento estadounidenses", dijo la vocera de Fair Immigration Reform Movement (FIRM), Kica Matos. "Aprobar el Acta DREAM es respaldar los valores de libertad, oportunidad, justicia e igualdad de nuestra nación – es recorrer el camino. El Congreso necesita hacer su trabajo", dijo Angélica Salas, directora ejecutiva de CHIRLA. "Un voto demorado es justicia demorada. El congreso tiene la responsabilidad moral y política de asegurarse que estos 800,000 jóvenes inmigrantes no pasan sus navidades preocupados por su futuro y sus familias. Las matemáticas del Acta DREAM son altamente positivas para la economía de nuestra nación. La humanidad de aprobar el Acta DREAM protegerá a las familias, aumenta nuestros valores sobre política y asegura a este Congreso un lugar en la historia".