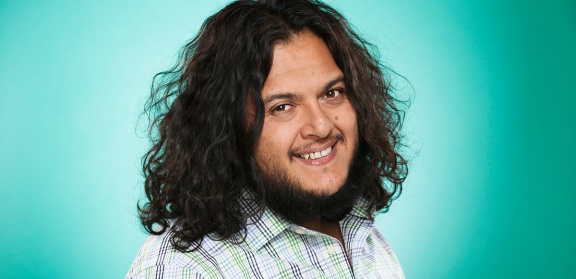 By Nikoleta Morales
Due to a sold-out show and extreme popular demand from fans, comedian Felipe Esparza has added a second show in Chicago for his highly-anticipated "Bad Decisions Tour." The second show will take place right after the first on January 12th at 10 p.m. at the Vic Theater on 3145 North Sheffield. "I am very thrilled to perform in Chicago. At first I performed at Joe's Bar. Before I got to where I am today nobody booked me in Chicago. I got my following thanks to Mickey' O who brought me first to Chicago and helped me get a fan base here. Now I am fortunate enough to go and perform at big theaters here alone," said Felipe to Lawndale News.
After nearly four years of doing his "What's Up Fool?" podcast, Felipe has found his new voice on stage and explores his tough past experiences to try and find humor in them. With the "Bad Decisions Tour," Felipe is now bringing material that is edgier and darker than before. "The "Bad Decisions Tour" is 100 percent knew. If you expect the same stuff as you had seen on HBO before you won't see it on this tour," said Felipe. "I find humor in everything and my audience knows what to expect. I am an honest comedian and that's what makes me successful." Before age 21, Felipe found himself in rehab and someone asked him to list five goals in life. As a young immigrant and teenage father growing up in the projects in Boyle Heights (East L.A.), it was a difficult task. Among the items on that list, "to be happy", and "be a stand-up comedian" came from his connection to an old Bill Cosby album he listened to when he was younger.
"It takes a lot of hard work, knowing the right people, being nice to everyone you meet and show appreciation. Paul Rodriguez told me that you will meet the same people on your way up as you meet them on your way down," said Felipe. "A lot of Latin comedians try to crossover. Don't worry about crossing over, if you are good they will cross over to you."
From being raised in the projects in a family of nine living in one of the most gang-infested neighborhoods in the country to winning NBC's "Last Comic Standing", to selling out live comedy shows all over the country and being able to act in TV shows and movies, Felipe's life has been anything but boring. He worked for years as a stand-up comedian, opening on the road for fellow comedians such as Gabriel Iglesias and Paul Rodriguez, then took a leap of faith and went out on his own, which led to very little income and opportunity at first.
"Learn to write, go to a library and write every day. Pick up a newspaper and read. Come up with 30 jokes a day and force yourself to do that every day. Write, write, write," says Felipe in regards to young comedians who want to make it.
After the 16-year "overnight success" of winning Last Comic Standing, Felipe went on to produce his first hour-long stand-up comedy special, "They're Not Gonna Laugh at You" (Netflix). He has also made several TV appearances, including recurring roles on "The Eric Andre Show", NBC's "Superstore", TruTV's "World's Dumbest" and"Russell Simmons Presents Stand-Up at the El Rey". He also served as the spokesman for a national Honda campaign and a national Target Mobile campaign. During his early years as a comedian, Felipe was part of the successful stand-up comedy TV show, "Que Locos" on Galavisión (the only English-speaking show on Spanish television). That show and the resulting tour helped launch the careers of several other Latino comedians such as George Lopez, Gabriel Iglesias and Willie Barcena.
"I love stand up comedy! I love performing! I will do this for the rest of my life and I will die with a microphone in my hand," said Felipe.
Today, in addition to his live stand-up touring, Felipe hosts a weekly podcast on the All Things Comedy Network called "What's Up Fool?" that focuses on interesting stories from just about anybody. Felipe believes everyone has a story to tell about how they got where they are, no matter who they are. Recently, Felipe produced his second hour-long stand-up special with his wife Lesa, titled "Translate This", which premiered on HBO on September 30, 2017. He is also developing a sitcom with fellow comedian Dustin Ybarra and writers Bobby Bowman and Peter Murrietta. Felipe and Dustin will play brothers in the single-camera comedy that will be produced by 3 Arts Entertainment.
"The first show is sold out. Hurry up and get your tickets before the second show sells out too," said Felipe to his fans in Chicago.
Tickets are on sale now and fans (18 and over) should scoop them up before they sell out! For the latest news, tour info and to hear from the man himself, you can follow Felipe on Facebook, Twitter and Instagram. You can find more of Felipe's comedy on Itunes. Tickets are also available on FelipesWorld.com.