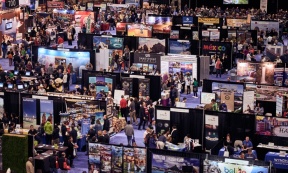 Por: Ashmar Mandou
¿Buscas aventuras? ¿Necesitas planear tus próximas vacaciones? ¿Necesitas inspiración? Chicago Travel and Adventure Show te tiene en mente. Este sábado, 10 y el domingo, 11 de febrero en Donald E. Stephesn Convention Center, 5555 . River Rd., Rosemont, cientos de exhibidores de todo el mundo estarán presentes para ofrecer consejos de viaje y ayuda para que hagas realidad tus vacaciones soñadas. El Show Chicago Travel and Adventure incluirá el acceso a docenas de sesiones inspiracionales, educativas y culturalmente enfocadas en cinco escenarios localizados en el lugar, junto con actividades prácticas para toda la familia.
"Para la 14ava. iteración de Chicago Travel & Adventure Show, hemos trabajado incansablemente para ofrecer, tanto a los profesionales del viaje como al público, la mejor información sobre actuales oportunidades de viaje y las tendencias alrededor del mundo", dijo John Golicz, CEO de Travel and Adventure Show. 'El show de este año será el más grande hasta la fecha. Nuestros esfuerzos no podrían realizarse sin la ayuda de nuestros patrocinadores: AAA, Oklahoma, 1000 TravelTips.com, y Rick Steves' Europe". El pabellón de Wellness Travel Experience destacará proveedores de viajes enfocados en la salud, productos y servicios mostrando las últimas tendencias y noticias en este creciente segmento del viaje. Otro punto a destacar de Chicago Travel & Adventure Show es la oportunidad de encontrarse y obtener inspiración de importantes expertos en viajes y celebridades mientras presentan seminarios y responden preguntas sobre el evento de dos días. Hablando en el Travel Theater estaránSobre Travel Theater Hablarán:
PBS' "Places To Love" (y ex Travel Channel) Anfitriona Samantha Brown
Guías de Viaje de Frommer, Editor Ejecutivo y la personalidad de radio sindicalizada Pauline Frommer
"Rick Steves' Europe" CEO Rick Steves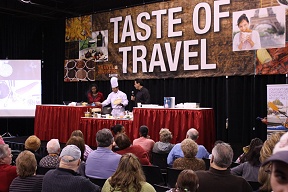 En el Teatro Savvy Traveler, los visitantes interactuarán con expertos en viajes sobre materias que van desde como empacar y la tecnología del viaje a como maximizar los puntos de una tarjeta de crédito y consejos para viajar y planear con seguridad en un mundo impredecible. En el Teatro Destination, los viajeros recibirán información de expertos locales, específica a su destino, sobre cuando ir, como llegar, que ver y atracciones locales de destinos como Australia, Maui y Canadá.
El Teatro Taste of Travel presenta los mejores chefs, los que presentan demostraciones de cocina en vivo ahí mismo,en el piso del show. Con cocinas de todo el mundo, los invitados tendrán la oportunidad de saborear pruebas y obtener una experiencia cultural completa en un teatro con asientos estilo estadio. En Global Beats Stage, los asistentes pueden sentir el sonido y la experiencia del ritmo de bailes culturales y actuaciones musicales durante más de 20 presentaciones todo el fin de semana. Si desea más información, visite