By: Ashmar Mandou
The ever-sensational, most rhythmic live production on Broadway today returns to Chicago. On Your Feet! follows the lives of Grammy Award winning artists Emilio and Gloria Estefan and how they came to be a global phenomenon in the music industry. On Your Feet! returns for a limited three-week engagement at the Cadillac Palace Theatre, 151 W. Randolph. This week, Lawndale Bilingual Newspaper had the opportunity to speak to Mexican actor and recording artist Mauricio Martínez who stars as Emilio Estefan about his love for acting and his excitement for On Your Feet!
Lawndale Bilingual Newspaper: You will be making your Chicago debut in the beloved On Your Feet! as Emilio Estefan for a limited three-week engagement. How are you feeling?
Mauricio Martínez: I'm thrilled to bring this story that I care for so much back to where it all started three years ago. It's an honor to be playing Emilio and to be making my Chicago debut with this incredible show! 
As mentioned, you will be playing icon Emilio Estefan who served as one of the pioneers of bringing Latin rhythms to the mainstream music industry.  What does it mean to you to portray someone like Emilio Estefan? 
It's a huge honor because the more I know him, the more I love him, and the more I understand his passion for music, his love for Gloria and their family…and everything they went through to get to where they are today. Emilio and Gloria have opened the doors for so many artists, including myself. To portray Emilio is to honor him and his life. It's a blessing. I adore that man and I couldn't think of a better human to portray. 
You have garnered a lot of experience from starring in Disney's Beauty and the Beast, Saturday Night Fever, and Sweet Charity in Mexico City.  You are currently starring in Season Two of NBC Universo's original series El Vato.  What is it about the craft of acting that you enjoy most?
I love the process of becoming somebody I'm not. I love creating a role and working with my directors and fellow actors. I love trying different things and taking risks. If I'm doing theatre, the rehearsal process is always my sanctuary and a place to feel safe. Once I'm doing the show, I let the role come to life and it's something magical. In TV and film, I love the time in between takes when I can go over lines and concentrate…you wait a lot in the studio so you've got to make it fun!
After the limited On Your Feet! engagement, what will you be doing next?
I'm currently waiting to know if we'll be shooting a 3rd season of "El Vato" for NBC Universo. I'm also making my 54 Below Debut in New York on July 1. There's a lot of things happening and it's an exciting time.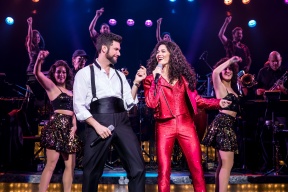 What can audience members expect when they see On Your Feet!? 
Audiences will get two-and-a half hours of inspiration filled with Latin pride, beautiful music, and a love story that will touch their hearts. I also think that we are in the perfect time to deliver this powerful message of an American Dream that is possible; immigrants are a very important part of the history of this country, just like my beloved Gloria &Emilio. Their story is a beautiful one. 
On Your Feet! runs through April 8th at the Cadillac Palace Theatre, 151 W. Randolph. For ticket information, visit www.BroadwayInChicago.com or call 800-775-2000.
Photo Caption: Mexican actor and recording artist Mauricio Martínez stars at Emilio Estefan in On Your Feet! Photo Credit: Broadway in Chicago
Photo Caption: Mauricio Martínez sings alongside Christie Prades who portrays Gloria Estefan in On Your Feet! Photo Credit: Broadway in Chicago