This month, more than 890,000 Walmart U.S. associates are receiving a share of more than $560 million in total cash bonuses, including:
• More than $160 million in cash bonuses based on their stores' Q4 performance, and
• More than $400 million in one-time cash bonuses tied to recent changes in tax law.
• In Illinois, Walmart associates are receiving approximately $18.5 million in combined bonuses.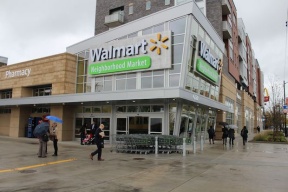 The bonuses, along with an annual pay raise for our hourly field associates, are included in their March 8th paycheck. Between Q4 performance bonuses, tenure-based bonuses, pay increases and recent paid time off (PTO) cash outs, more than $1 billion flowed to U.S. hourly associates during the months of February and March. In January, Walmart announced plans to increase the starting wage for all hourly associates in the U.S. to at least $11, expand maternity and parental leave benefits, and provide a one-time cash bonus for eligible associates of up to $1,000. Walmart associates earn quarterly bonuses as part of an overall incentive plan designed to reward associates whose stores achieve sales and customer service goals. Hourly associates in Illinois earned more than $4.8 million, following Q4 comp sales of 2.6 percent in Walmart U.S.