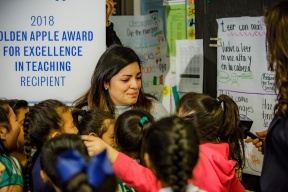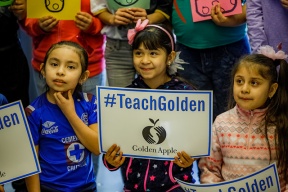 By: Ashmar Mandou
Golden Apple recently surprised second grade bilingual teacher at Little Village Academy Anita Unzueta with the highly respected Golden Apple Award for Excellence in Teaching, a moment Unzueta will cherish for years to come. "The Golden Apple Award means a lot to me," said Unzueta. "It was one thing to be a finalist, but to receive this award for doing something I truly love is amazing." The annual award recognizes and honors exemplary teachers for their role in building a stronger and better-educated society and among the nearly 700 nominees, Unzueta was presented the award in front of her students, family, and school.
"I grew up with a similar background like my students who face obstacles. It is my responsibility to empower them, to inspire them, to build relationships, and foster a sense of accountability," said Unzueta, who fell in love with teaching in high school. "I had amazing teachers who introduced me to unique opportunities. They taught me how to be my own advocate. They inspired me in so many ways and that's what I want to give my students. I want to provide opportunities to my students, I want them to feel empowered, and I want my students to have a positive attitude and set goals for themselves."
Unzueta, understand the importance of providing a safe and secure school environment for her students. She believes that education is most effective when families are involved in student learning and activities. And for the past eight years has facilitated social and emotional parent workshops to help parents promote a home culture of trust and communication. In partnership with the school counselor, Unzueta works to help her students' families find the support they need from school and community resources. Unzueta is also a graduate of the Golden Apple Scholars of Illinois Program, which provides rigorous preparation and mentoring to aspiring teachers who commit to teaching in an Illinois school-of-need for five years.
"Golden Apple is proud to recognize this year's award recipient for their exceptional accomplishments in the classroom," said Alicia Winckler, Golden Apple president and CEO. "Each of the recipients is uniquely talented and epitomizes the dedication, skill and drive in the teaching profession that facilitates better futures for scores of young people." Northwestern University provides each Golden Apple Award recipient with a tuition-free, spring quarter sabbatical to study at Northwestern University. Each recipient also receives a $5,000 cash award. Award recipients become Fellows of the Golden Apple Academy of Educators, giving them a stronger voice and a larger stage from which to make a difference in education. Golden Apple soon will be awarding the 2018 Stanley C. Golder Leadership Award, which honors an exceptional principal/head of school. All recipients will be features on May 19th on WTTW. Nominations for the 2019 awards are open and all are invited to nominate an exceptional educator from the Chicagoland area who teaches grades 9-12. For more information, visit www.goldenapple.org/nomiate-a-teacher.
Photo Credit: Golden Apple
Photo Caption: Little Village Academy teacher Anita Unzueta receives 2018 Golden Apple Awards in front of her pupils, family, and school leadership.