Por: Ashmar Mandou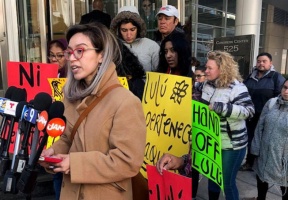 Fuera de la Corte de Inmigración de Chicago, el miércoles por la mañana, un grupo de activistas sostuvieron una conferencia de prensa sobre la audiencia de inmigración en el caso de deportación de la organizadora de los derechos del inmigrante y una vez llamada la Residente de Chicago del Año, LulúMartínez. Familia y amigos, junto con representantes de Comunidades Organizadas Contra las Deportaciones, la Coalición de Derechos del Refugiado y el Inmigrante de Illinois y otras organizacioanes comunitarias, hicieron una manifestación por Martínez anticipando la audiencia de la corte con letreros que decían "Dejen a Lulú en Casa".
"El organizarme con mi comunidad contra las instituciones y sistemas que nos dañan me ha mostrado el poder de forzar los límites y arriesgarse para defender nuestros derechos. En unos cuantos días enfrentaré a un juez de inmigración que decidirá si debo ser deportada por defender a mi comunidad, espero no ser castigada por organizarme para mantener a las familias unidas", dijo Martínez antes de su audiencia de corte.
Lulú Martínez llegó a E.U. a la eadad de 3 años y se crió en el barrio de Portage Park del noroeste de Chicago después que sus padres cruzaran la frontera Mexicana. Martínez se graduó de Walter Payton College Prep en el 2008 y se inscribió en la Universidad de Illinois en Chicago. El activismo de Martínez se desarrolló después que su amigo Rigo Padilla enfrentara la deportación a México en el 2009. Martínez, junto con una amiga, inició protestas en su nombre que llamaron la atención nacional.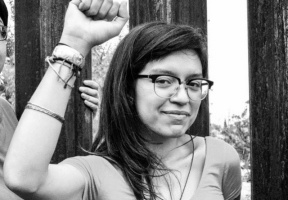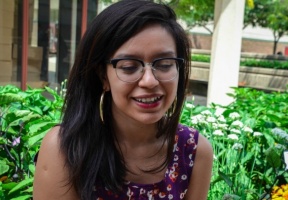 Como organizadora nacional de derechos del inmigrante, Martínez se unió a National Immigrant Youth Alliance que organizó una campaña "Tráiganlos a Casa" para reunir a las familias separadas por las deportaciones bajo la administración de Obama. Como parte de ese esfuerzo, Martínez y ocho otros jóvenes elegibles para el Acta del Sueño, conocido como "Dream 9" fueron detenidos en la frontera México-EU y puestos en proceso de deportación. Como resultado de su participación en "Dream 9" Martínez fue nombrada "Chicagoan of the Year" [Residente de Chicago del Año] por Chicago Magazine en el 2013. "Lulú Martínez es sin embargo otra activista de los derechos del inmigrantes que tiene que luchar por su propia deportación. Tiene una larga historia de lucha por nuestra comunidad y queremos estar seguros de que nuestra comunidad está presente para garantizar que puede quedarse en casa", dijo Reyna Wences, Organizadora de OCAD y por mucho tiempo amiga de Martínez.
[Nota Editorial: Al momento de la fecha límite, la decision de la Corte de Inmigración de Chicago sobre el caso de Lulú Martínez, no se había dado a conocer.]