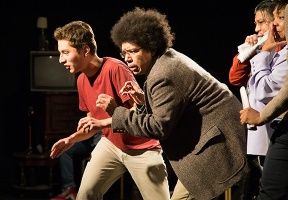 Outdoor tent revivals meet lost Dream Space meet Chicago protest energy in REST, a new immersive performance created by the Free Street Youth Ensemble in collaboration with acclaimed performance artist Tricia Hersey, founder of The Nap Ministry. Both joyful and welcoming, REST uses movement, text, and yes, actual naps, to explore the history of forced labor in the United States, and to invite the audience to reclaim rest as a tool of liberation. Free Street will be touring REST to five parks across the city as part of the Chicago Park District's Night Out in the Parks initiative. Tricia Hersey, a Chicago native, is well-known for creating site-specific performance that uses warmth and humor to the importance of self-care as a challenge to oppressive structures. Hersey will be working with the Free Street Youth ensemble to co-design REST, and will perform with the company for the opening event.
Performance dates, times, and locations:
JUL 7TH-GAGE PARK @ 6:00PM W/TRICIA HERSEY
JUL 19TH- OSTERMAN BEACH @ 1:00PM  
JUL 19TH- HUMBOLDT PARK @ 6:30PM
JUL 20TH- HARRISON PARK @6:00PM
AUG 1ST- WALSH PARK @6:00PM
All performances in the parks are FREE and open to all ages. Free co-programming for children will be available for each performance.