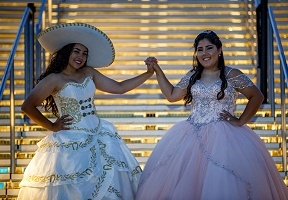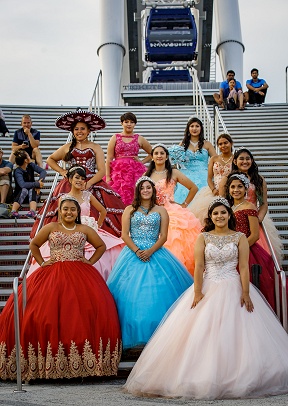 For the second consecutive year, Navy Pier is celebrating the quinceañeras of young ladies across Chicagoland with free professional group photos on the 15 of June, July and August this summer. Chicago's popular year-round destination has teamed up with the National Museum of Mexican Art to host a photoshoot for 15-year-old birthday girls at the Wave Wall on the South Dock, against the stunning backdrop of the iconic Centennial Wheel and beautiful Lake Michigan. Young ladies are invited to gather at the Pier in their finest quinceañera dresses for a "class photo" along the lakefront with others celebrating the special milestone. Participants will receive a link to download free digital copies of the photos, taken by a professional photographer, along with one complimentary ticket to ride the Centennial Wheel. Interested individuals are required to register in advance. Upon arrival, participants must check in inside the Crystal Gardens, and will be escorted as a group to the photoshoot location. In the event of rain or severe weather, the photoshoot will be held in the Crystal Gardens. See below for the schedule and registration link:
Friday, June 15 | 6 p.m.
Special performance by Ida y Vuelta
Sunday, July 15 | 2 p.m.
Special performance by Mariachi Tradición Juvenil
Wednesday, August 15 | 6 p.m.
Special performance by Jugo De Mango
For more information, visit www.navypier.org or download the Navy Pier app on any Android or iOS device.
Credit: James Richards IV Photography / Navy Pier