Compiled by Ashmar Mandou
Fourth of July is around the corner and there is no other city that celebrates quite like Chicago. We have rounded up your must-see events this weekend, ranging from fireworks to outdoor dancing to delectable foods. Have a safe and wonderful Fourth of July.
Fireworks at Navy Pier
606 E. Grand Avenue
Enjoy a spectacular pyrotechnics show along the downtown lakefront. At Navy Pier beginning at 9:30 pm on Wednesday, July 4, fireworks will light up the sky, in synch with a score of patriotic music. All summer long, in fact, Navy Pier hosts free fireworks displays on Wednesday and Saturday evenings.
Grant Park Music Festival: Independence Day Salute
201 E. Randolph Street
A Grant Park Music Festival tradition. Bring your family and friends to the lakefront on Wednesday, July 4 from 6:30-8:45 pm for an evening of patriotic favorites, along with Gershwin's Rhapsody in Blue, featuring 16-year-old pianist, Emily Bear. Christopher Bell conducts. 
Ready, Set…Taste
Grant Park
Get a jump on the 38th Annual Taste of Chicago with "Ready, Set…Taste" – a new set of specials and deals "cooked" up in advance of this year's main event. From July 1 to 10, foodies are encouraged to get out and start trying Taste menu items before the festival starts by visiting one of the participating restaurants and food trucks. Mention "Taste of Chicago" when you order to receive a special discount or free offer. For a list of participating vendors and deals visit tasteofchicago.us.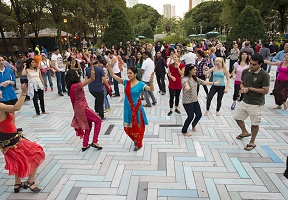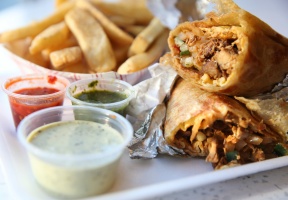 Happy Place
1004 N. Elston Avenue
Opening Thursday, June 28th and running through Monday, Aug. 6th, HAPPY PLACE will give Chicagoans and visitors the opportunity to capture their happy in over a dozen whimsically designed rooms filled with interactive experiences and photo opportunities. Visit HappyPlace.me for more information.
Chicago SummerDance
601 S. Michigan Avenue
Head over to the Spirit of Music Garden in Grant Park blossoms into an urban dance space. Dance to the sounds of 48 different live bands, DJs and get into step with dance lessons beforehand. Glide across the restored 4,900-square-foot, 100 percent recycled, open-air dance floor. This weekend dance to the sounds of Brazilian Samba, Swing, and Salsa.