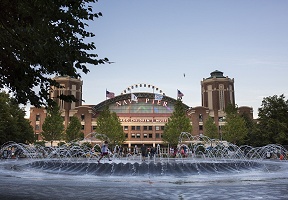 By: Ashmar Mandou
Navy Pier is synonymous with summer fun. From the Aon summer fireworks, to the Centennial Wheel, to the Children's' Museum there is something for everyone throughout the sweltering days of summer. This year, Navy Pier is kicking off a new season of free arts and cultural programs in addition to the popular events, such as Live on the Lake! and Miller Lite Beer Garden. We recently spoke to Navy Pier Spokesperson Payal Patel about this summer's programming, specifically Navy Pier's newest event, LatiNxt, a free, two-day Latin music and art festival taking place on June 15th and 16th at the Miller Lite Garden.
Lawndale Bilingual News: Among all the exciting events occurring at Navy Pier this summer, our readers our most excited for the inaugural LatiNxt event, Quinceañera, and Noche Caribe. Talk to me about the importance of curating events that are inclusive and represent the city's diverse communities?
Payal Patel: Navy Pier prides itself on being the People's Pier, welcoming and celebrating individuals from all walks of life. Our free, year-round arts and cultural programs are reflective of that. We honor our core values of diversity and inclusion by hosting programs, such as LatiNxt Presented by Sol, Quinceañeras and Noche Caribeña, which celebrate the Latino culture and heritage and its influence in Chicago. Throughout the summer, we will also host Navy Pier Pride Presented by American Airlines, which celebrates the LGBTQ+ community; Chi-Soul Fest in honor of African-American Music Appreciation Month; Korean Independence Day Celebration as a nod to the Korean community in Chicago; and much more all year round. 
What are some of the events that you look forward to each summer at Navy Pier?
Navy Pier's Water Flicks (free outdoor film series) and Water Colors Presented by CBIC (free outdoor jazz series) have quickly become popular summer programs at the Pier. Our guests enjoy bringing blankets and chairs to enjoy a classic movie or soothing sounds of jazz at sunset in our new Polk Bros Park. We also look forward to presenting different public art installations every summer and throughout the year. On July 7, guests will get the unique opportunity to view and interact with Ivan Navarro's Water Towers, presented in partnership with EXPO Chicago.
How much fun is had working at one of the busiest landmarks in the City?
Working at Navy Pier is an experience like no other — There is never a dull moment! In curating and implementing these dynamic and eclectic experiences for our guests, our own staff get to engage with them first hand, which I think is a job perk that not many get to have. I'm constantly inspired and amazed by the work we do at the Pier.