By: Daniel Nardini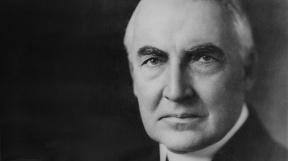 He had surrounded himself with millionaire friends. He had little to no idea about how to run government, or about foreign policy. He virtually isolated himself from world affairs, and had proposed tax cuts not only for ordinary Americans but also for corporations. He signed legislation to restrict legal immigration, and had become involved in some serious scandals. If you think I am talking about our current 45th U.S. President Donald Trump, you are actually wrong. I am talking about former 29th U.S. President Warren Harding. In so many ways, his presidency has been forgotten, and he is hardly ever mentioned in the history textbooks. It comes as no surprise because he was president at a time period in American history that is rarely ever taught about either—the 1920's. But there are some surprising parallels between what happened then and what is happening now.
Harding had a strict restriction policy on immigration that would last for decades. It was during his presidency that the Per Centum Act of 1921 was passed, which greatly restricted immigration into the United States. While the measure was supposed to be "temporary," it ended up being a cornerstone policy that would be part of America's isolation for decades. Many immigrants who could get into the United States could not because of this. At the same time, he helped keep the United States out of the League of Nations (the forerunner to the United Nations), which in too many ways would doom the League in the decade to come. Unlike today, where U.S. President Trump is using the fear-mongering phenomenon of "illegal aliens," Harding used the fear tactics of the "communists" and "socialists" at a time when racism and anti-immigrant feeling were high (this was especially true in the U.S. southwest states).
Then there is the Tea Dome Scandal. This came to light only after Harding's death, but it said volumes of his administration. This scandal involved the taking of bribes by one of Harding's cabinet members Secretary of the Interior Albert Bacon Fall. Fall received bribes from oil companies located in Tea Dome, Wyoming. Fall was eventually convicted of accepting bribes and sent to prison. No one was ever convicted of offering bribes to Fall. The Tea Dome Scandal would remain the single worst act of corruption within a president's administration until Watergate. What is equally uncanny are the extra-marital affairs Warren Harding had before his presidency. It closely parallels the life of Trump. However, Harding was spared any acts against him or any real negative publicity because he died in office of a heart attack on August 2, 1923. He was mourned by the whole nation and buried with presidential honors. We will never fully know what outcome there would have been of his presidency had he lived well beyond that. Yet he has earned a not so great reputation as far as presidents go because he had accomplished so little while he was in office.