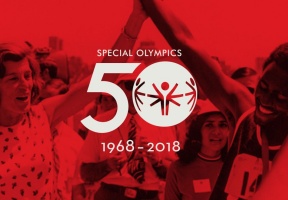 Por Ashmar Mandou
De un campamento de verano en el patio trasero para personas discapacitadas a un movimiento mundial, las Olimpiadas Especiales cambióla vida y la actitud de muchas personas a finales de la década de los '60s. Fundado por Eunice Kennedy Shriver, quien vio con que injusticia se trataba a las personas con discapacidades intelectuales y vio la manera de cambiar eso en su propia casa en Washington, D.C. Su meta era ver si estos jóvenes, que experimentaban alguna forma de discapacidad, podían participar en deportes y en actividades físicas. A través de rigurosos esfuerzos y afiliaciones, el 20 de julio de 1968 se llevaron a cabo los Primeros Juegos Olímpicos Internacionales Especiales en el Soldier Field de Chicago, empresa entre la Fundación Kennedy y el Distrito de Parques de Chicago. Cerca de 1,000 atletas con discapacidades intelectuales, de USA y Canadá, compitieron en los primeros Juegos Olímpicos Especiales en Chicago. Hoy, cerca de cinco millones de atletas han participado en las Olimpiadas Especiales desde su inicio, inspirando a millones más. Este fin de semana, decenas de atletas se tomarán la ciudad para celebrar el 50º aniversario, culminando en un Concierto de Olimpiadas Especiales en Northerly Island. Si desea ver un evento o dos, vea la lista a continuación que lo guiará en las actividades del fin de semana.
Special Olympics Unified Cup presentado por Toyota
Encuentros Preliminares: Hasta el 19 de julio
Lugar: CIBC Fire Pitch, 3626 N. Talman Ave., Chicago, IL
Empieza: 8 a.m. CT
Costo: Gratis | Capacidad: 1,500
Encuentros Finales: Julio 20
Lugar: Toyota Park – Bridgeview, IL
Empieza: 5 p.m. CT
Trasmisión: EN VIVO en ESPN2
Costo: Gratis | Capacidad: 18,000
Carrera Conmemorativa de la Antorcha – Law Enforcement
Fecha: Julio 20
Lugar: Calle 39, a lo largo del lago, hasta Soldier Field (Llama Eterna)
Comienza: Aproximadamente 11 a.m. CT
Costo de Registro: $75
Llama de la Eterna Esperanza
Fecha: Julio 20
Lugar: McFetridge Park – Chicago, IL
Empieza: 12 p.m. CT
Costo: Gratis
Día Global de Inclusión
Fecha: Julio 21
Lugar: Soldier Field – Chicago, IL
Hora: 1 p.m. – 7 p.m. CT
Costo: Gratis | Capacidad: 30,000
Concierto
Fecha: Julio 21
Comienza: 5;40 p.m. CT
Acompañe a Chance the Rapper, Usher, Francis & The Lights, Daya, Smokey Robinson, Jason Mraz y O.A.R. el 21 de julio en el Concierto de Celebración del 50º Aniversario! Dedicado al empoderamiento y la inclusión, el concierto inspirará una #inclusionRevolution.